Health Center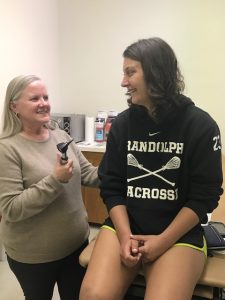 The Student Health Center at Randolph College is dedicated to providing quality, confidential, and compassionate health care to students.
Our mission is to assist students and the Community in identifying and managing their foremost health needs. Prevention, health promotion, and education are at the core of every encounter between a student and the Health Center staff.
Health Center Hours and Appointments
Located in the Terrell Health and Counseling Centers Building adjacent to the Chapel (see map)
Phone: 434-947-8130
Fax:      434-947-8106
Normal hours during the regular academic year
Monday–Friday 9 a.m.– 4 p.m. by appointment only
Walk-ins may be accommodated, if possible, or re-appointed for another day and/or time
After hours and for urgent medical needs, contact the Reception and Information Desk (RaID) at 434-947-8000 (or extension 8000 from a campus phone) and ask for the Head Resident on call or Security.  For emergencies, please call 911.
Health Center Services
The Health Center Director and the Nurse Practitioner strive to promote healthy lifestyle habits and provide treatment, counseling, and education for typical student health needs and concerns. For more specialized needs, students may be referred to an off-campus medical office or facility.  The Randolph College Student Health Center offers a variety of prevention, treatment, health promotion, and educational resources to all full-time Randolph College students.