Meet the Staff
Christine Harriger
Director
charriger@randolphcollege.edu
Christine Harriger has over 20 years of progressive experience in the field of career counseling and recruiting. She joins Randolph College from Western Carolina University. Christine served as the Associate Director in the Center for Career & Professional Development in charge of career integrated services.  Christine also worked as an Assistant Director at James Madison University in Harrisonburg, Virginia. Christine has worked as career liaison to a variety of departments at numerous institutions and is well versed in helping students explore majors, select career paths and secure employment.  She is qualified in the Myers-Briggs Type Indicator (MBTI) as well as the Strong Interest Inventory, among other assessments. In addition, she has worked at numerous universities to include:  George Mason University, the University of Richmond and Virginia Commonwealth University.  Christine has extensive knowledge about federal hiring and worked at the USDA and Fort Lee Army Career & Alumni Program (ACAP), where she received the Program Manager's Award.  Christine earned a M.Ed. in Counselor Education from Virginia Commonwealth University and is recognized as a Master Career Counselor (M.C.C.) from the National Career Development Association (NCDA).  She maintains a private practice, Career View, where she helps individuals transition to new career opportunities.  Christine has served as the President of the Virginia Career Development Association (VCDA) as well as the Virginia Association of Colleges & Employers (VACE), where she has received numerous awards to include the VCDA Meritorious Service Award, Special Achievement Award and Leadership Award.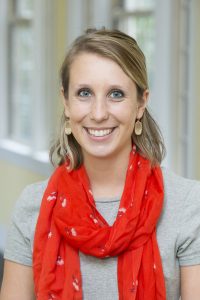 Maegan Crews
Internship Coordinator
mcrews@randolphcollege.edu
Maegan Crews joins the Career Development Center with 3 years experience in project management and constituent services with the US House of Representatives. She graduated from the College of William and Mary with a degree in government. Maegan has a strong conviction that internships and study abroad can make  profound differences in our students' experiences at Randolph College.


 Sonja Tucker
Administrative Assistant to the Career Development Center and International Programs
stucker@randolphcollege.edu
Sonja Tucker joins Randolph College with two years experience in records management. She started here working with Professor Katrin Schenk on a grant, and upon completion of the years funding, was invited to join the CDC and International Programs as Administrative Assistant. Sonja is passionate about connecting with people and applying her creative spirit. As the Administrative Assistant, she is able to connect people to the resources they need and use her creative energy in developing material to reach people with important information.