Need a job after graduation? Knowing Spanish can help you get one.
Why Study Spanish at Randolph?
Spanish is spoken throughout the United States, and the ability to speak, understand, read, and write the Spanish language is becoming increasingly necessary in all types of career fields—human services, health care, business, journalism, law enforcement, and others.
As part of a strong liberal arts education, the major program in Spanish helps prepare students for work in international business and industry and for graduate school in such areas as language and literature, art, music, law, international relations, and teaching.
Becoming proficient in Spanish adds a valuable skill to your resume.
Bachelor of Arts Degreein Spanish
Minor in Spanish
Spanish Majors Also Study
Students majoring in Spanish become conversant with the language, literature, and culture of Spain and Latin America.
Students gain an appreciation of modern cultures as well as a new perspective on their own heritage.
Study of the literary, cultural, social, and political institutions of the country where the language is spoken help develop the student's awareness of international interdependence.
At the same time, the departmental offerings encourage an increased understanding of the logic of language and a proficiency in speaking, writing, reading, and understanding a second language.
The department offers a major and minor Spanish.  Additionally, for students whose first language is not English, an English composition sequence is available.
To supplement their coursework, students are strongly encouraged to study abroad for one or two semesters.
Opportunities for Experience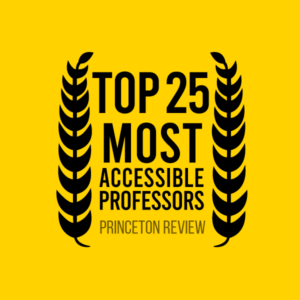 Top Ranked Professors
Randolph College's faculty are consistently recognized as among the best in the nation. The Princeton Review ranked the College 18th for most accessible professors in the 2020 edition of its flagship college guide, The Best 385 Colleges.
Randolph has been ranked in the top 20 for most accessible professors for three consecutive years.
Spanish Department Faculty
News from the Spanish Department
Hola, España! Randolph Spanish major studies abroad in Spain
On his first day at the Cursos Internacionales for the University of Santiago de Compostela in Spain, Isaiah Freedman '20 was exploring campus when he fell and injured his […]
Read More