August 13, 2019
Hola, España! Randolph Spanish major studies abroad in Spain
On his first day at the Cursos Internacionales for the University of Santiago de Compostela in Spain, Isaiah Freedman '20 was exploring campus when he fell and injured his hand and sprained his ankle. Even though going to the hospital was not how he had hoped to begin his study abroad experience, it proved to be a valuable, real-life test for his Spanish conversation skills.
"Communicating with the Rosaleda Hospital employees exclusively in Spanish was an important part of my cultural immersion in Spain, and I felt comfortable with knowing that eventually my foot would make a recovery; I just had to take it slowly," Freedman said.
Besides the injury, Freedman greatly enjoyed his first trip outside of the United States. He took summer courses at Cursos Internacionales from July 1-14, thanks to a cultural immersion grant. As part of the curriculum, he and his classmates from around the world watched and analyzed short films, visited historic sites like the Torre de Hércules (the oldest functioning lighthouse in Europe), and examined international issues. He even learned new phrases in Galician, since it is one of the most common languages spoken at the university.
Freedman said the experience made him more independent and confident as both a Spanish major and as a person.
"Being in Santiago de Compostela, Spain has improved my knowledge of the Spanish language greatly because it was spoken nearly exclusively in most situations, including getting a wheelchair at the Santiago airport and at the official opening of the Cursos Internacionales program," he said. "All of the difficulties during my stay in Spain made me a stronger person, and staying in Spain increased my knowledge of Spanish culture, especially the local cuisine."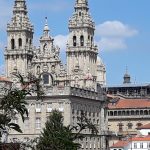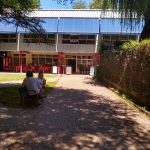 Tags:
Cursos Internacionales, Isaiah Freedman, Spain, Spanish, study abroad, University of Santiago de Compostela