August 30, 2023
Randolph relaunches campaign for the renovation of Martin Science Building
Randolph College has always been known as a pioneer.
At a time when most women were not educated in the sciences, the College offered courses in physics, astronomy, biology, chemistry, and more—with "equipment as complete as may be found in the best colleges for men in any section of the country," according to the local newspaper circa 1898.
Times and technology have changed, but Randolph's commitment to offering the next generation of scientists a strong liberal arts education has not.
As part of that commitment, the College is relaunching its Science Matters campaign for the renovation and revitalization of the historic Martin Science Building with a special event in October.
The event will take place on Thursday, Oct. 5 at 4 p.m. in the Hampson Commons portion of the Student Center, located at the rear of Randolph's iconic Main Hall.
The campus community will be joined by the College's Board of Trustees, local leaders, and area alumni for this milestone event in Randolph's history.
"To attract and retain the most academically talented students and to keep pace with the scientific advances that drive the curriculum in contemporary college science programs, our Martin Science Building must reflect Randolph's rich history and the high academic
caliber of our current endeavors," said Randolph President Sue Ott Rowlands. "Modern science labs are designed for collaboration to allow for better communication during lectures or research. Maker education, the process of learning through creativity, interdisciplinary concepts, and experimentation are all in high demand. In contrast to Martin's enclosed corridors, an ideal building design features light and open spaces that facilitate interaction between students and faculty."
Built in the late 1930s and named in memory of Fernando Wood Martin, the first scientist on the College's faculty, the 38,000-square-foot Martin Science Building provides a historic setting for Randolph students and faculty.
These upgrades will be an invaluable resource for students in the College's biology, chemistry, physics and engineering, math and computer science, marine science, and environmental studies and sciences programs, as well as the Natural History and Archaeology Collections Project.
While primarily remaining true to its original architecture, the building will undergo an interior transformation, becoming a welcoming space that inspires communication, curiosity, discovery, and innovation.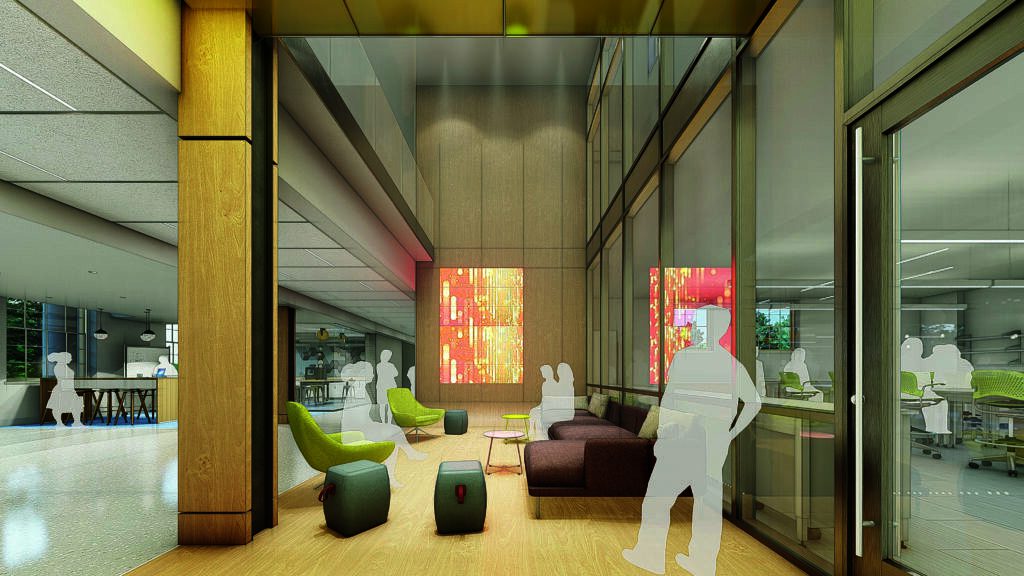 Renovations will bring the building up to current standards, resulting in a place that is more comfortable and fully accessible, with better climate control, lighting, and campus integration.
With the addition of the modern technological and scientific resources expected by today's faculty and students, the new facility will highlight Randolph's passion for the sciences.
Renovations will begin in January 2024, and the new building will be ready by fall 2025.
Though the project's original public launch was stalled due to the pandemic, the enthusiasm for it has remained strong.
The College has already received approximately $16.4 million in gifts and pledges toward the project goal of $23 million and estimates receiving $3.7 million in state historic tax credits, leaving $3 million needed to complete the campaign.
The Mary Morton Parsons Foundation has also recently notified Randolph College that this project is eligible for a matching grant opportunity in the amount of $250,000. Randolph is required to meet the match by May 2024.
"We are humbled by the response of 43 leadership donors who have given so generously to this project over the last five years and who have been instrumental in our progress thus far," said Farah Marks, vice president for institutional advancement.
To RSVP for the Oct. 5 event, email events@randolphcollege.edu.
More information can be found at sciencematters.randolphcollege.edu.
If you or someone you know may be interested in supporting the project, please contact:
Office of Institutional Advancement, (877) 769-2443 or give@randolphcollege.edu.
Tags:
Martin Science renovation, science, Science Matters Campaign