April 17, 2023
Randolph's 15th annual Symposium of Artists and Scholars set for April 26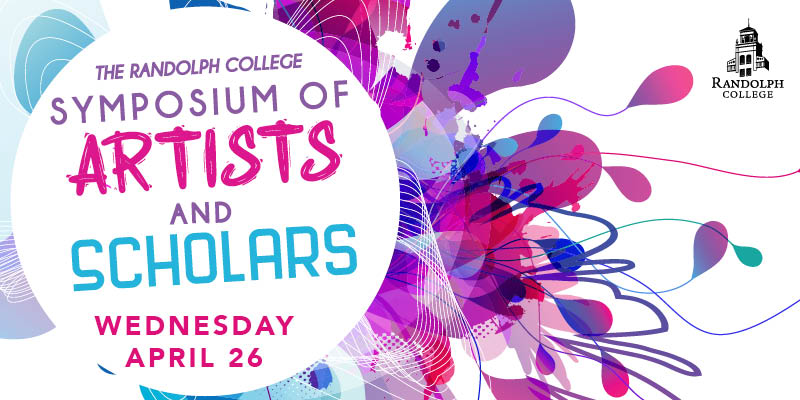 The College's 15th annual Symposium of Artists and Scholars (SAS) will shine a light on a wide range of topics this year—from the antioxidant properties of health bars to the representation of minorities in Hollywood to the installation of a hydroponic gardening system right here at Randolph.
Modeled after the traditional academic conference, Randolph's symposium features a keynote speaker along with oral presentations, readings of creative work, performances, exhibitions of student artwork, and poster presentations.
Beth Schwartz, associate director of the American Psychological Association's Office of Applied Science and a former professor at Randolph, will give this year's keynote address, "Beyond the Laboratory: Applying Psychological Science to Solve Real-World Problems," at 9:30 a.m. Wednesday, April 26, in Nichols Theatre.
Oral presentations will follow in the afternoon.
More than 30 students contributed work this year. Research subjects also include antimicrobial resistance in Europe, the growth of online sports betting, psychedelic rock posters as cultural identifiers, collegiate injury prevention programs, the transatlantic traditions of Germany and New York, and navigation using smartphone sensors.
Teaching strategies and other classroom-related topics are also abundant, with students looking at cheating behavior, SOL preparation, instruction strategies, and more.
Participants also used SAS as an opportunity to document and highlight their College experiences, from studying abroad to completing internships to competing in a local reservoir design competition.
Find the full schedule below, and visit www.randolphcollege.edu/research/sas for more information.
Symposium of Artists and Scholars Schedule
9-9:30 a.m.: Light breakfast and coffee (Presser Building, Wimberly Recital Hall entrance)
9:30-10:30 a.m.: Welcome and keynote address (Presser Building, Wimberly Recital Hall)
10:45 a.m. to noon: Poster Presentations and Exhibits (Hampson Commons)
12:15-1:15 p.m.: Buffet lunch (Ashley Jack Room, Smith Hall; RSVP required)
1:30-2:45 p.m.: Oral presentations I
NICHOLS THEATRE (Moderator: Brad Bullock, Charles A. Dana Professor of Sociology)
1:30 p.m.: Kylie Edington '23, "Bismarck's Playbook on the Kulturkampf: An Insight into Manipulating Hatred of Fellow Germans and Escaping Backlash"
1:45 p.m.: Mengna Zhao '23, "Unboxing the Representation of 'model minorities' in Hollywood"
2:00 p.m.: Jamila Read '23, "Teaching Reading is Rocket Science: Effectiveness of LETRS® Reading Program on High Frequency Word Recognition"
2:15 p.m.: Talia Santiago '23, "The Determinants of Antimicrobial Resistance across Europe: A Statistical Approach to Understanding one of the World's Leading Public Health Crises"
KLEIN BOARDROOM (Moderator: Jesse Kern, chemistry professor)
1:30 p.m.: Jackson Schulte M.A.T. '23, "Making the Standards Interesting: Considering Student Writing Interests during SOL Writing Test Preparation"
1:45 p.m.: Gabriel Quintero '23, "A Comparison and Recommendation of Inventory-Based Organic Carbon Estimation Methods in Small Virginia Forests"
2:00 p.m.: Jennifer Moore '23, "Antioxidant Properties of Health Bars"
2:15 p.m.: Kelli Gajewski '23, "The Power of Praise: The Effects of Praise vs. Corrective Feedback on Students Learning"
2:15-2:30 p.m.: Break & afternoon snack
3-4 p.m.: Oral presentations II
NICHOLS THEATRE (Moderator: Lesley Shipley, art history professor)
3:00 p.m.: Ashton Poythress '23, "Tracing the Growth of Online Sports Betting Since its Legalization in 2018"
3:15 p.m.: Grace Duckworth '23, "If You Can Read This, You're on the Bus: Psychedelic Rock Posters as Cultural Identifiers"
3:30 p.m.: Talia Santiago '23, "Injury Prevention Programs at the Collegiate Level"
3:45 p.m.: Kylie Edington '23, "The Unspeakable Impossibility: The Evolution of Translation of Symposium into English and Homosexual Visibility in Western Society"
KLEIN BOARDROOM (Moderator: Amanda Rumore, biology professor)
3:00 p.m.: Marcela Izquierdo Poza '24, "Investigating Navigation Using Smartphone Sensors"
3:15 p.m.: Brandon Harrison '23, "Helping Horses Help You"
3:30 p.m.: Natalie Clark '23, "The Representation of Women in Sports Broadcasting on ESPN shows 'First Take' and 'NBA Today'"
3:45 p.m.: Whitley Sadacca M.A.T. '23, "Teacher Let Me Dance: Examining the Effects of Play-based and Kinesthetic Learning Activities in a Middle School Language Arts Classroom" 4
POSTERS & EXHIBITS
Cassidy Bell '23, "Investigating Effective Teaching Strategies Focused on Helping Students with Learning Disabilities"
Daniel Bickey '23, "Rocky Mountain Vibes"
Kyler Christiansen '23, "Transatlantic Traditions of Germany and New York"
Hannah Cloven '23, Amanda Jagdeo '24, Cristina Berenguer Llongueras '23, Aleighson Robertson '23, Stability X '25, Mengna Zhao '23, "Clay Street Reservoir Design Competition"
Andi Curtis '24, "Making Work Study Work for You"
John Dolan M.A.T. '23, "Aiming for Excellence: The Use of Choice during Review Activities"
Grace Duckworth '23, "Diarism of the Cagey: A Reflection of My Senior Art Exhibition"
Jenna Fink '23, "Effectiveness of Using Math Manipulatives in a Second Grade Classroom"
Allison Jarrett, M.A.T. '23, "Flexible Seating Effect on Task Behavior in an Elementary Classroom: Give Students Choice"
Jacob Katz '23, Jenaka Derksen '24, Hordy Ndambo '24, "The Role of Situational Stress Induction and Personality Traits on Cheating Behavior"
Bailey Livingston, M.A.T. '24, "Learning Made Fun, Teaching Made Easy: Inquiry-Based vs. Lecture-Based Instruction in the Classroom"
Faith Martin, '23, "Be Fearless"
Jennifer Moore '23, "Summer in Santiago, Spain"
Haley Mundy '23, "Abroad in Belfast: A Randolph Student's Experience at Queen's University"
Deborah Parker '23, "Drawn Animal Anatomy"
Nicholas Pietro '23, "Nonlinear Mode Coupling of Oscillating Neutron Stars"
Eva Pontius '23, "Designing and Implementing a Climate Resilient Forest Garden at R.S. Payne Elementary"
Olivia Richards '23, "Installing a Hydroponic System at Randolph College: A Legacy Project"
Erin Schriever '23, "How Do Different Angled Inclines Affect the Accuracy of an iPhone 12's Accelerometer"
Rion Smith M.A.T. '23, "The Essay-writing Tango: Using the Process-based Approach to Aid Students in Essay Writing"
Megan Westerman '23, "Conference on Policy Process Research
Tags:
Center for Student Research, research, senior research, student research