April 20, 2023
Putting down roots: Randolph collaborates on project to plant a forest garden at local elementary school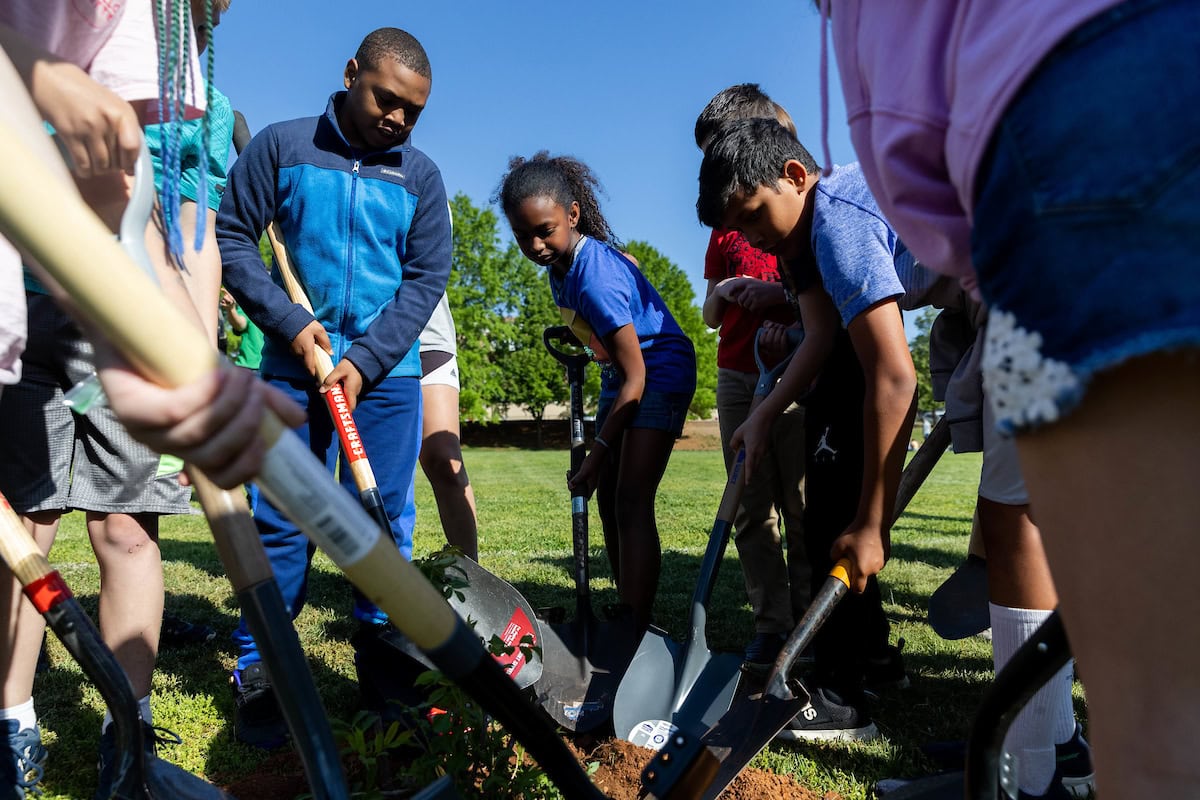 Students at R.S. Payne Elementary School lugged buckets of mulch and wielded shovels and rakes on Wednesday as they planted their own roots in a new forest garden behind the school's playground.
Full of fruit trees and bushes—think apples, pears, blackberries, elderberries, and more—the garden will eventually be a source of food for students and community members, grown right in their own backyard.
Eva Pontius Hey '23 designed the garden for her senior project, using the principles of permaculture, an approach to land management that aims to recreate the diversity, stability and resilience of natural ecosystems in productive, resilient gardens. It's about integrating land, resources, and people in a sustainable way.
Hey used a Randolph Innovative Student Experience (RISE) grant to take a permaculture design course, which offered knowledge she needed to complete the project.
On Wednesday, she led groups of students—a total of about 400 throughout the day— in planting trees as part of that plan.
"She really had a vision and ran with it," said Molly O'Liddy, the Virginia Department of Forestry's urban and community forestry partnership coordinator, who worked with Pontius on the design.
For Hey, it's personal—she's a product of Lynchburg City Schools and attended R.S. Payne herself as a child.
"I really think they'll go home inspired," she said. "I love this school. I remember playing in this field. I like feeling like I'm making a difference here."
The planting event was a collaborative project that brought together multiple stakeholders in the area, including students and staff from Randolph, the University of Lynchburg, Lynchburg City Schools, and the City of Lynchburg, along with officials—and funding—from the Virginia Department of Forestry.
R.S. Payne students rotated among several stations highlighting the different aspects of the garden, which will also include benches, trellises, and a book walk aligned with the school's literacy goals.
A wildflower seed ball making activity, organized by Randolph Sustainability Coordinator Lindsey Van Zile, was among the stations. Students created their own seed balls with the help of Randolph student volunteers, then tossed them into the forest garden in what Van Zile called a "rogue gardening method" that can show quick results.
"Any time you can get kids out of the building and into the world, it makes it real for them," said Principal Kellie Baldwin. "It's great not just for our students and their learning opportunities, but also for our community. They'll be able to come, engage, and take the fruits of the forest home to their families."
The project grew out of the collaborative work of Randolph professor Karin Warren and her colleagues at the University of Lynchburg and Sweet Briar College, Laura Henry-Stone and Lisa Powell, on urban heat islands and climate resilience.
In 2021, they led students in the Virginia Foundation for Independent Colleges' (VFIC) Heat Watch Project, surveying temperatures in Lynchburg and identifying neighborhoods that had higher temperatures than others.
Those areas are known as urban heat islands, and R.S. Payne is right in the center of one. As part of the Heat Watch project, the Department of Forestry provided additional funding, funneled through the VFIC, to purchase trees for planting in hot neighborhoods to help cool them in the summer months.
"This is our response to the heat mapping data," said O'Liddy, who was onsite all day Wednesday. "We challenged the participating schools to reach out to those communities to figure out a way we could improve and increase canopy coverage."
R.S. Payne is also in an historically redlined area and what's considered a food desert, an area where there is limited access to affordable, nutritious food.
"Intersectionally, it made sense to start here," said Warren. "A school is exactly where we needed to be. Teachers will now have this as a resource."
Their goal is to use the R.S. Payne Forest garden as a model that can be replicated at other schools while addressing climate and food resilience issues within the city.
"Having the school and students involved is so important," O'Liddy said. "It shows them where food can come from and the relationship a person can have with the land, growing something that provides for them and their families in their own hometown."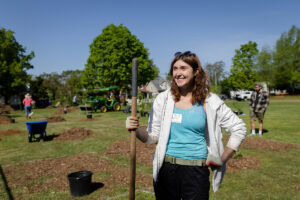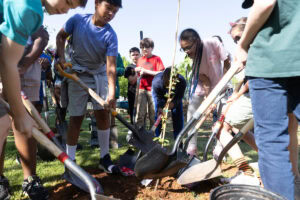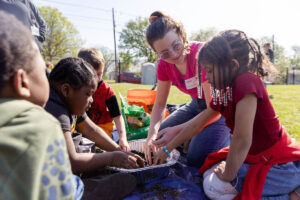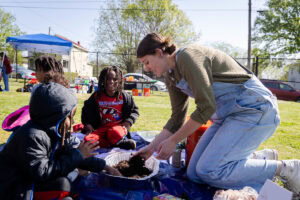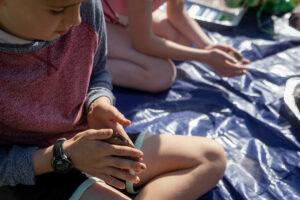 Tags:
environmental science, environmental studies, Heat Watch, Virginia Heat Watch, Vita 2023 Spring