November 22, 2022
Students analyzing the structure and evolution of viruses in special one-time course
A group of Randolph students have spent the early weeks of Session 2 delving into the structure, genetics, evolution, and replication cycles of viruses—a timely topic as the world continues dealing with the COVID-19 pandemic.
"Obviously viruses are on people's minds right now," said biology professor Adam Houlihan, who is teaching the special one-time course in virology. "We do a little bit of virology in microbiology, but it's nice to have a whole session with it."
Students are in class with Houlihan four times a week and in the lab with him and biology lab technician Sara Harper-Roche twice a week.
Their work has focused on bacteriophage, viruses that infect and replicate only in bacterial cells. In the first part of the session, students have worked on labs given to them by Houlihan and Harper-Roche, but starting this week, they are focusing on self-designed experiments.
"They come up with their questions and methods and then start doing the procedures," said Harper-Roche, who has worked on similar projects with students taking microbiology. "I love this part of my job. It's the perfect combination of bench science and education."
Quincy Johnson '23, a biology major, said it's been interesting to learn more about viruses and how they work.
"You hear about them all the time," he said, "and this helps us understand what's really going on."
The project he'll be working on over the coming weeks is focused on antibiotic resistance, looking at what is more effective at killing bacteria—antibiotics or bacteriophage.
He's pairing with classmates Talia Santiago '23, an economics and sport and exercise studies double major who suggested the topic, and Maria Tumminello '23, who is majoring in biology.
"A lot of what we've been doing translates to real life in the medical field," Tumminello said. "It's stuff people get every day."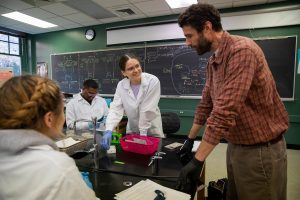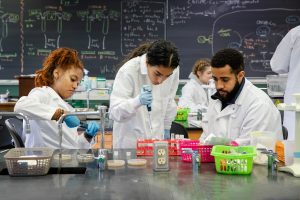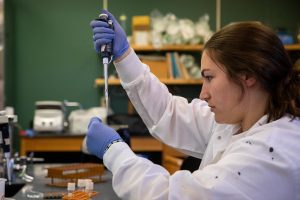 Tags:
biology