April 5, 2022
Spring Dance Concert to feature current, former students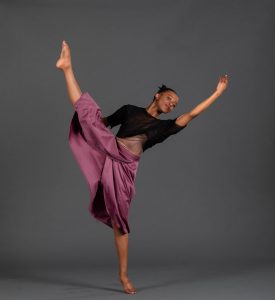 Randolph's Annual Spring Dance Concert will feature performances by both current and former students, as well as a Roanoke-based ensemble with connections to another alumna.
"We were able to find dances that really suited our students' strengths, while also challenging them creatively and artistically," said Marie Zvosec, visiting assistant professor of dance. "It was important to me that each of the dances present a different aesthetic challenge along with a rehearsal process that would create from each performer new technical skills and new avenues for them to find expression."
Students are staging the work of mostly visiting choreographers during the 2022 show, which is scheduled for April 14-16 at 7:30 p.m. in Smith Hall Theatre.
The concert includes two short films created by visiting guest artists Helen Hanson French and Take Ueyama—the latter of which highlights performances by Pam Risenhoover and former adjunct dance professor Kelly Malone Dudley '95.
French, in addition to her film Les Falaises, has also staged something that Mitchell Ngwenya '25 will perform live.
Other pieces include a solo Hiawatha Johnson, Jr., Randolph's artist in residence, is creating with Brianna Thompson '22; an ensemble, choreographed by Brynt Beitman, featuring Ngwenya, Stephanie Swithers '25, and Meagan Swithers '18; and excerpts of Spindrift, an original piece choreographed in 1989 by Denise Gola Weller, retired founding artistic director of Ohio Dance Theatre.
Weller worked with students to restage Spindrift—featuring Thompson, Ngwenya, Stephanie and Meagan Swithers, and Mekenzie Schmitt '19—on campus earlier this spring.
A performance by City Modern Ensemble will round out the show; the Roanoke-based dance company's rehearsal director is Katie Reep '19.
Tickets to the concert are free for Randolph students and children under 12, $5 for students and seniors, and $8 for general admission. Buy them at the door or in advance at www.randolphcollege.edu/tickets and (434) 947-8562.
Tags:
department of performing arts, performing arts