November 12, 2021
Randolph graduate gains valuable experience at wildlife refuge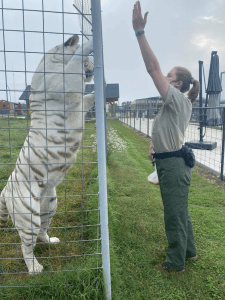 Rebecca Heidenfelder '21 wrapped up her time as a Randolph College dance student with an ode to felines—On the Prowl, a movement study on cats, in the College's Spring Dance Concert.
These days, she's working with a bigger breed of cat through an internship with the Turpentine Creek Wildlife Refuge in the Ozarks of Arkansas.
The refuge rescues lions, tigers, bears, and other wild animals by shutting down illegal animal rings and providing homes and care to the animals they save.
Heidenfelder, who double majored in biology and dance, wants to be a veterinarian focused on exotic animals.
"I'd like to work at a zoo, which is one of the reasons I'm interning at Turpentine Creek," she said. "I've always had a love for animals, and cats have been very close to my heart. They're such gorgeous creatures and have an amazing way of moving. Here, I get to work with a lot of carnivores, which is really what I want to do—work with large cats."
She and the other interns take care of the animals—which also includes nine bears, three white tigers, two bobcats, a jaguar, a cougar, and even a hyena—on a rotating schedule.
They clean their habitats, prepare their meals, and scatter feed them, essentially spreading food like oranges, apples, and sweet potatoes around the animals' habitat so they can forage like they would in the wild.
Early on, Heidenfelder helped take care of the bears, who in addition to meat get extra dishes filled with things like dog food, oats, apples, tomatoes, avocado, and even popcorn.
"It's just something to give them more nutrients because they are omnivores, so they don't just eat meat."
Interns are also involved in what they call enrichment, a practice designed to physically and mentally stimulate the animals and enhance their well-being.
"It's basically just to keep them on their toes and encourage them to be active and keep them from getting bored," she said. "We'll do different scents, using fresh herbs or kitchen spices. They really love perfume, the smellier the better."
Training the animals is another form of enrichment that also allows staff members to check them for injuries.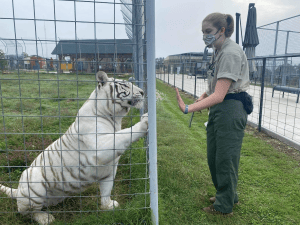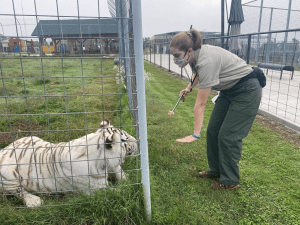 The habitats at Turpentine Creek are entirely outside, each with a nighthouse and den.
"In the winter, we'll put mulch in the bottom to make it warmer," said Heidenfelder, whose internship lasts through February. "For some of them, we use donated firehose to make door covers to keep it warmer in there. We also use the firehose in some of our habitats for the smaller cats. It gives them stuff to climb on. We can make hammocks. It looks like a jungle gym and allows them to play and have more places to hide and sleep."
Turpentine Creek has its own hospital on the property, complete with a surgery room and three recovery suites. The veterinarian who treats the animals is even a former intern.
Heidenfelder doesn't work directly with the vet, other than occasionally observing a procedure, but leads tours and answers questions from visitors to the facility.
"I am using a lot of the knowledge I have from Randolph's biology program to explain what some of these animals have gone through," she said. "For example, we have a lot of white tigers here. They are not naturally occurring in the wild. They are strictly man-made. The white gene is recessive so you need two copies to get it, and that means these guys have to go through a lot of inbreeding to exist. I've explained a lot about genetics to people to help them understand."
In the process of applying to vet schools, Heidenfelder said the experience she's getting at the refuge is invaluable.
"In other places, I'd never be in a position to interact with large animals," she said. "I've just always had this passion for it. I'm excited I'm actually getting to work with them now."
Tags:
biology, internships, outcomes, pre-veterinary, Vita No. 11