October 7, 2021
Randolph students create class zine for art history course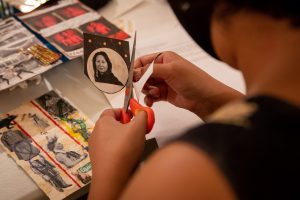 In 1971, art historian Linda Nochlin wrote a groundbreaking essay examining the institutional obstacles that prevent women from succeeding in the arts.
In "Why Have There Been No Great Women Artists?," Nochlin challenged the myth of the male genius and inspired a new era of feminist art history—inspiring countless artists along the way.
Fifty years later, a group of Randolph students are responding to the essay with something of their own: Who Are the Great Women Artists at the Maier?, an old-school, collage-style, photocopied zine.
"It's different from your typical project," said Lamontria Brown '24. "We're free to be more creative with it. We get to be artists and make art. And to know the history behind it is empowering because ladies are at the forefront."
The project is a collaboration among the students in art history professor Lesley Shipley's course Women, Art, Power. The class, which meets at the Maier Museum of Art at Randolph College, was offered to coincide with the 50th anniversary of Nochlin's essay, celebrating its significance while focusing on the women artists whose work is part of the College's collection.
"This is a 100-level class, so I wanted to give them an introduction to art history and get them engaged with the art," Shipley said. "Zines were a form of activism, and I thought it was something students would find exciting and engaging. It's art history, but also artistic."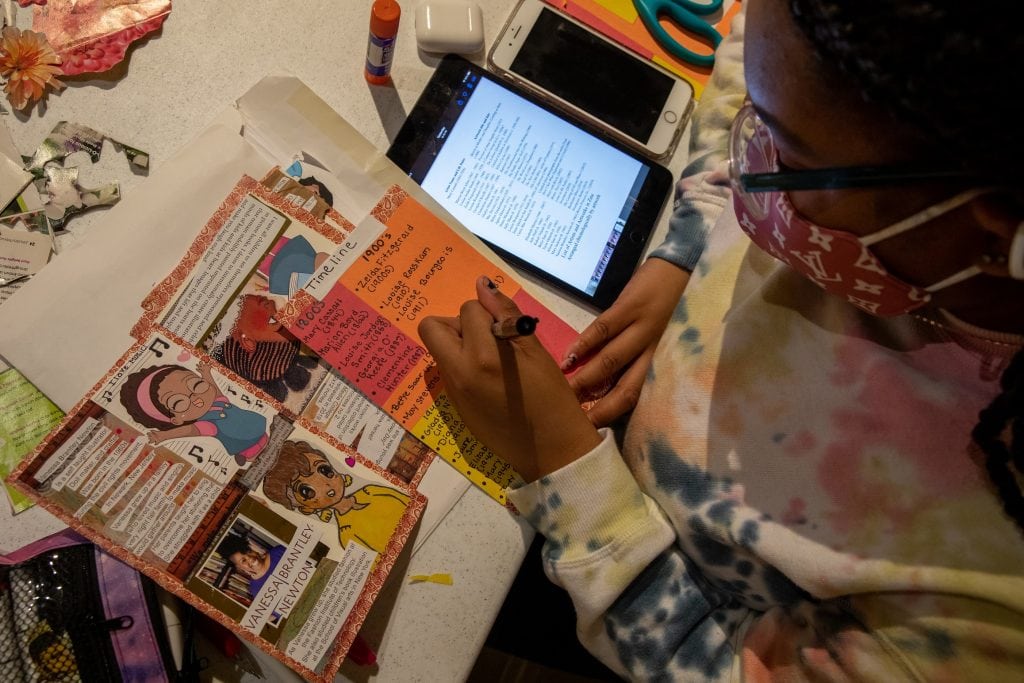 Zines, short for fanzines, are typically handwritten and hand-drawn, then photocopied for wider, and more affordable, distribution. Their origins can be traced back to the 1930s, when they first emerged among science fiction fans. Zines again became popular in the 1960s and 1970s punk scene, focusing on social and political activism, as well as in the 1990s.
"When I think of zines, I think of the Riot Grrrl movement of the '90s. That was a real feminist movement," said Shipley, whose research area is art and activism. "The '90s women punk artists started using zines to raise awareness of sexism in the punk scene and to talk about feminist issues."
The students drove the second half of the course, researching their chosen artists, sketching out ideas for the zine, and presenting them to each other during a group critique.
Then it was time to get to work, cutting and pasting images and text for pages dedicated to the likes of Georgia O'Keeffe, Betye and Alison Saar, Zelda Fitzgerald, Elizabeth Murray, and Jaune Quick-to-See Smith.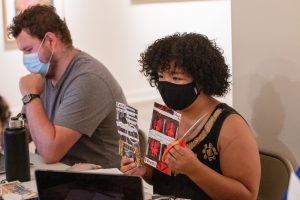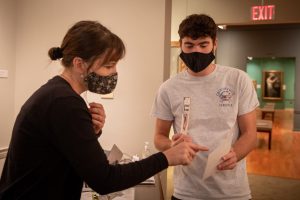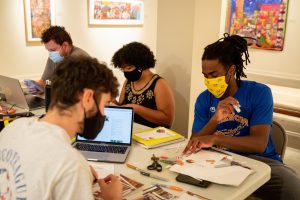 Students wrote up a summary of their research for Shipley but have free reign as far as the zine's actual design.
"The idea that we have no restrictions allows us to express ourselves in a different way," said Noah Bryant-Hooper '24, as he used a marker to draw stars across one of his pages during Tuesday's class.
Shipley and Laura McManus, the Maier's curator of education, plan to print about 50 copies of the finished project, which will be assembled during a stapling party later this week. Several copies will be available at the Maier and Lipscomb Library, and students will distribute the rest themselves.
A project like this is an example of what's possible with Randolph's new curriculum model, TAKE2, which finds students taking two courses every seven weeks.
"It gave me the chance to think more creatively about how I could use this very compressed time to do a class project," Shipley said, "and build community in a class."
Tags:
art, art and activism, art history, Lesley Shipley, Maier Museum of Art at Randolph College, Vita No. 12, women power art, zines