November 15, 2021
Randolph student leaves her mark in downtown Lynchburg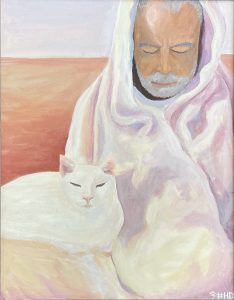 Hanan Davis '23 loves how public art can transform a space and breathe new life into previously empty city blocks.
"I also like the equality it brings," she said. "It's accessible to everyone."
Davis's first experience with public art came in 2018, when she painted a mural in downtown Lynchburg for her Girl Scout Gold Award Project, the highest achievement within the Girl Scouts of the USA.
Now she's back at it as a featured artist in the Downtown Lynchburg Association's (DLA) Art Alley, which was unveiled in October.
Davis was among a group of local artists chosen to revamp an alley at the intersection of Commerce and 11th streets—what officials have called "a blank canvas in the heart of our city"—leading to the Bluffwalk, a series of walkways, trails, and staircases overlooking the James River.
The goal is to "transform this overlooked area into a vibrant public art location" that supports local businesses, encourages tourism, and improves residents' quality of life, according to the DLA website.
That transformation came through an asphalt mural, multiple wall murals, and an outdoor rotating gallery displaying illustrations from 10 Central Virginia artists, including Davis, a Bedford County native.
Her father alerted her when the call for artists went out, and she quickly gathered some of her past work, including a portrait of him and the family cat. That piece was ultimately chosen for the rotating gallery, which features digitally enlarged reprints mounted onto the buildings along Art Alley.
"We gathered a selection committee to blindly review the submissions, keeping in mind that the intention was to 'spark joy' in the viewer," said Susan Brown, the DLA's program director. "Hanan's work, entitled Winter's Morning, sparked a peaceful kind of joy in us. The subject looks cozy and calm, inviting the viewer to be drawn in to ponder his thoughts."
The work in the rotating gallery will remain up through the end of the year, when Brown expects to put out another call for artists.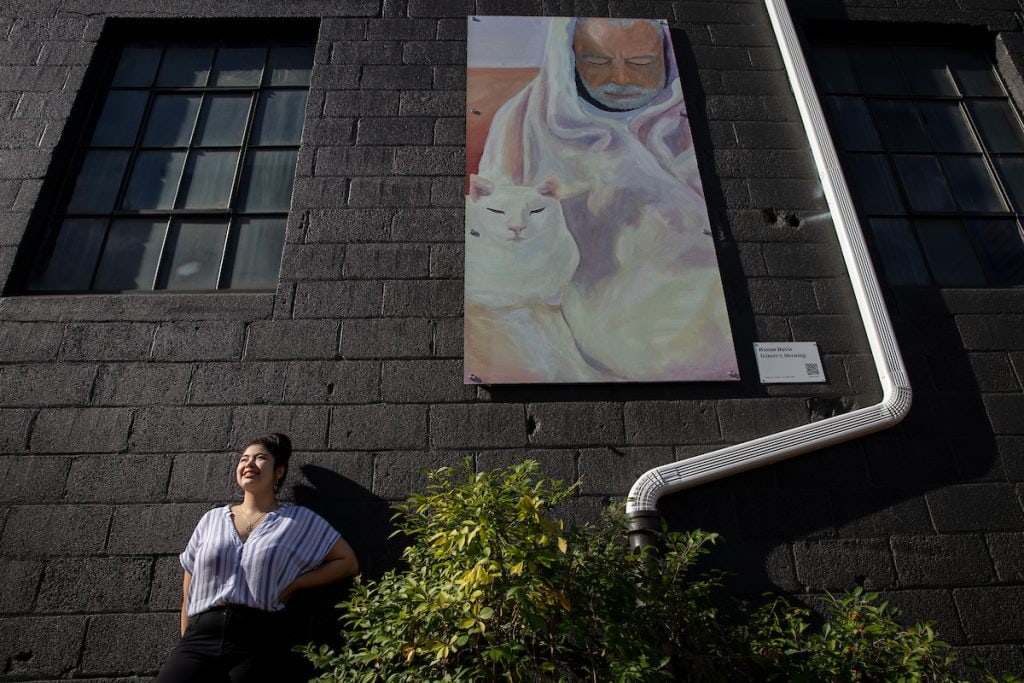 Davis, a psychology major with minors in art and sociology, has always been a creative type. She's experimented with watercolors and acrylics and has a wish list of mediums she'd like to explore, including woodblock printing.
Her 2018 mural was the biggest project she's tackled to date. Measuring 8 by 12 feet, it features a pair of hands holding a piece of earth behind the words "Together We Thrive." A river runs through the land, with blue skies overhead, and mountains and a cityscape in the distance.
Davis's goal with that project was to do something in service of the community, a passion she's continued to realize at Randolph. She participates in service projects as a Community Fellow, works as a tutor in the College's Writing Lab, and serves on the Judiciary Committee as a member of Student Government.
"I'm interested in community service, and I like working one-on-one with people," she said.
No matter what she does in the future, art will always be part of her life.
"I like creating things and using my hands. The tactile elements. Scrapbooking, crocheting," she said. "With public art, I like the result of having something that has changed the environment."
Tags:
art, public art, randolph magazine, Vita No. 11