October 19, 2021
2021 Thayer Lecture to focus on the value of historic preservation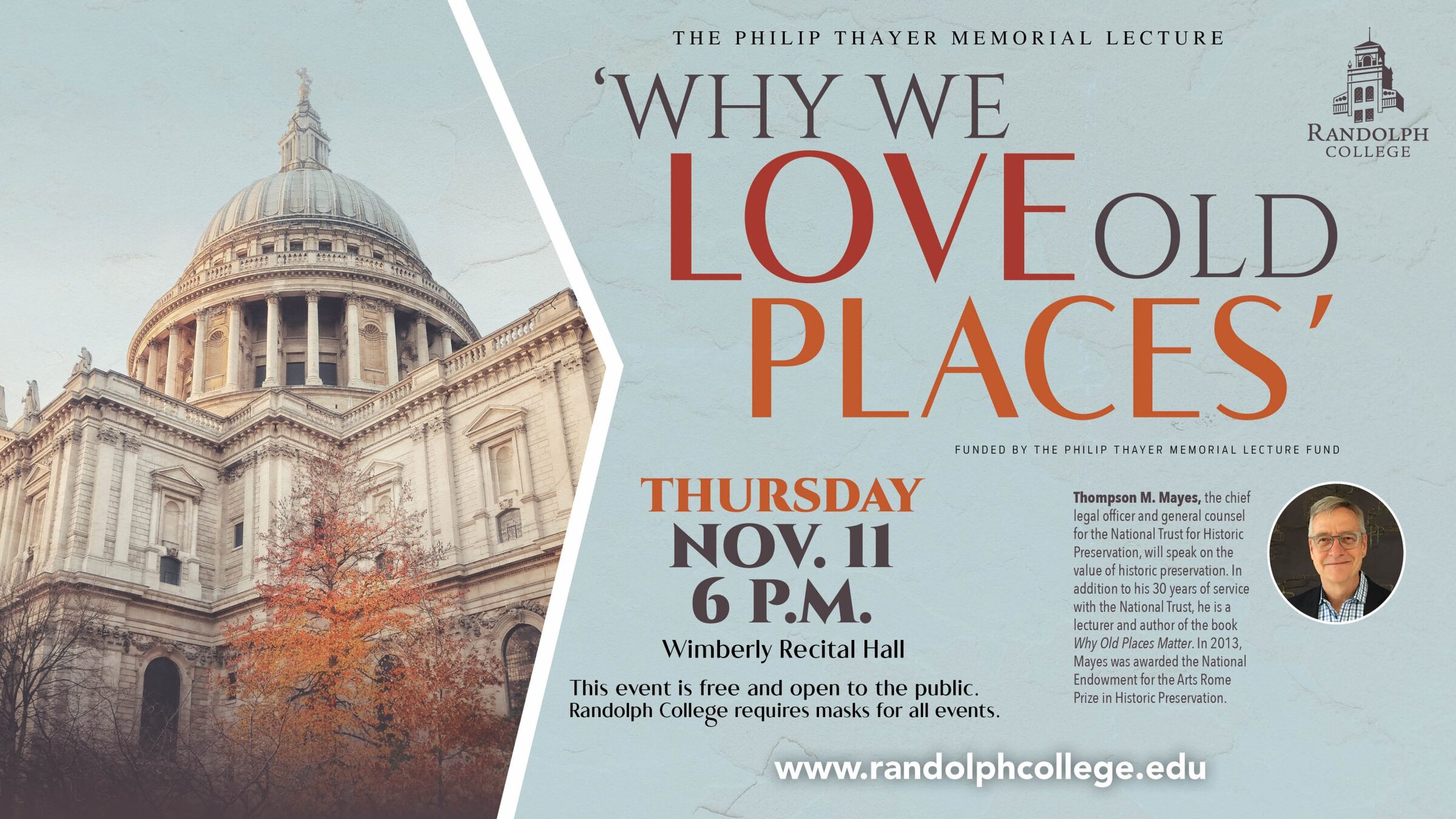 Thompson M. Mayes, the chief legal officer and general counsel for the National Trust for Historic Preservation, will give Randolph College's 2021 Philip Thayer Memorial Lecture.
In "Why We Love Old Places" scheduled for 6 p.m. Nov. 11 in Wimberly Recital Hall, Mayes will discuss the value of historic preservation.
In addition to his 30 years of service with the National Trust, Mayes is a lecturer and author of the 2018 book, Why Old Places Matter.
"Tom's practical, generous, and profoundly humanistic approach to historic preservation will strike a chord with the Randolph and Lynchburg communities and anyone who loves an old place," said Susan Stevens, classics professor and Randolph's Catherine E. and William E. Thoresen Chair in Humanities.
The essays in the book were inspired by Mayes's time as a fellow with the American Academy in Rome (AAR), a research and arts institution that awarded him its National Endowment for the Arts Rome Prize in Historic Preservation in 2013.
Stevens, a former AAR fellow herself, said the book is a beautiful collection that puts into words the attachment people feel to places, whether it's for national, local, or personal reasons.
"It should be required reading, and not just for museum and heritage studies and public history students at Randolph."
Mayes will speak to museum and heritage studies students as part of their capstone seminar during his time on campus, and Stevens said he's a great resource for anyone interested in the legal side of historic preservation.
The annual Philip Thayer Memorial Lecture, named for a respected Randolph history professor emeritus, brings scholars to Randolph each year to speak on the liberal arts. The event, made possible by the Philip Thayer Memorial Lecture Fund, is free and open to the public. Masks are required indoors at Randolph.
Tags:
historic preservation, history, museum and heritage studies, Philip Thayer Memorial Lecture, public history, thayer lecture