May 3, 2021
Randolph Thrive: New student-led program emphasizes healing power of nature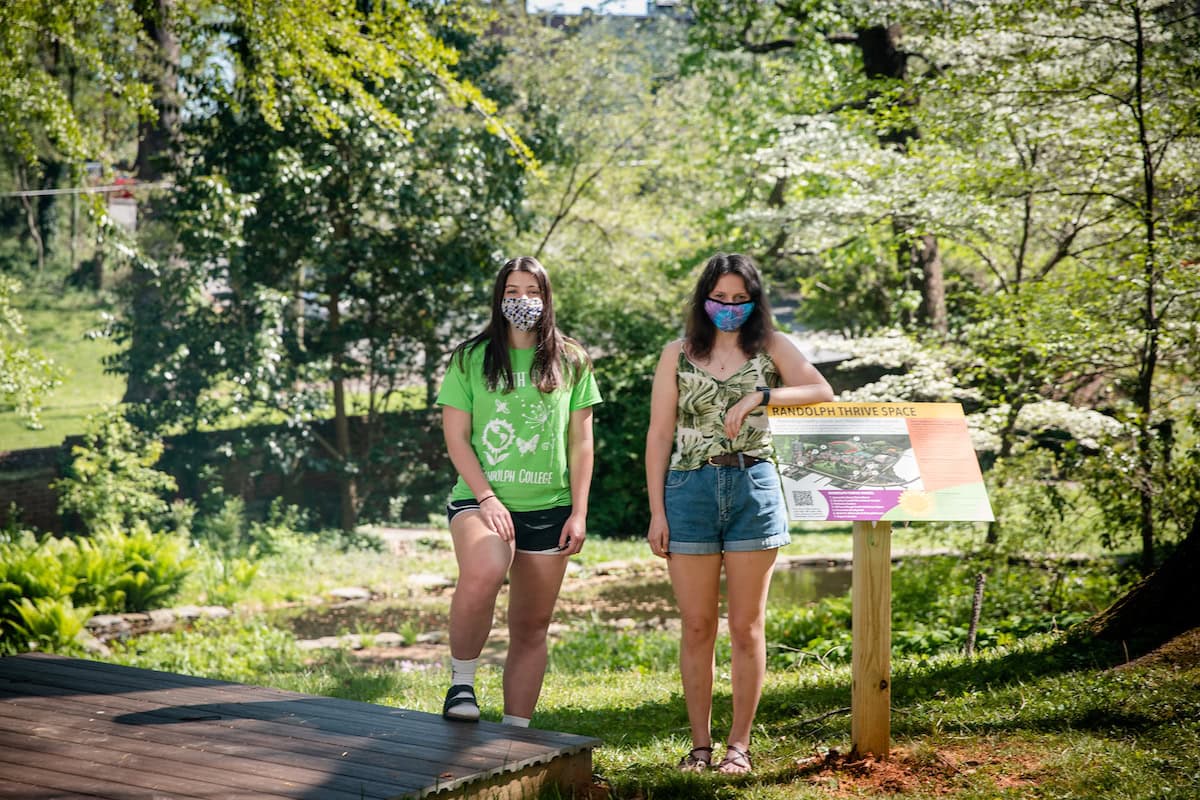 Abby Whitlock '23 and Sarah Greene '24 in one of the Randolph Thrive spaces. Whitlock and Green worked with Riley Lorson '21 (below), who is taking classes virtually this semester, to complete the project.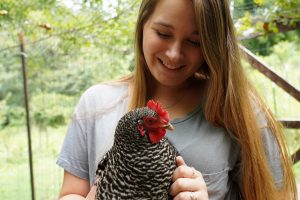 After nearly a year in the making, Randolph students recently launched a new program designed to tap into the healing powers of nature.
Randolph Thrive is a self-navigated program based on research showing that time spent outdoors can reduce stress, anxiety, and depression. Organizers have designated seven spots across campus where students can connect with nature and find stress relief.
"We don't want it to be a substitute for professional help, but we did want to make a resource available for students to gain those benefits from spending time in nature," said Riley Lorson '21, one of the project's organizers.
The program began as a student research project, proposed by environmental studies professor Karin Warren, during the fall of 2019.
"Dr. Warren presented a very basic description of other colleges who have campus nature programs like Cornell University's NatureRX, where time spent outdoors is actually prescribed to students," said Lorson, who originally worked on the project with Madeline Owens '20. "It's very interesting. But we didn't want to take that approach. Maddie and I decided to create our own program on campus."
They eventually identified spaces that would work within their parameters, taking some inspiration from the Japanese practice of forest bathing.
"People will go out into forests or wooded areas, away from distractions, to connect and be mindful," Lorson said. "They're there, in the moment, and they use all of their senses to feel what's around them. It's really renewing and refreshing."
Their original plans called for the program to launch last spring. However, the pandemic forced them to wait. Owens graduated, leaving Lorson, who is finishing up her final semester online, to lead the charge. She worked with Abby Whitlock '23 and Sarah Greene '24, who are both taking classes in person, to finish the project.
"I feel like having spaces like this will be really beneficial to the College," Whitlock said. "I know it's something I'll use."
The designated Thrive areas include the pollinator and organic gardens, the Dell, the labyrinth, a small area between Smith Hall and the Red Brick Wall facing Rivermont Avenue, and the Botanic Garden, where a yoga platform was installed specifically for the program.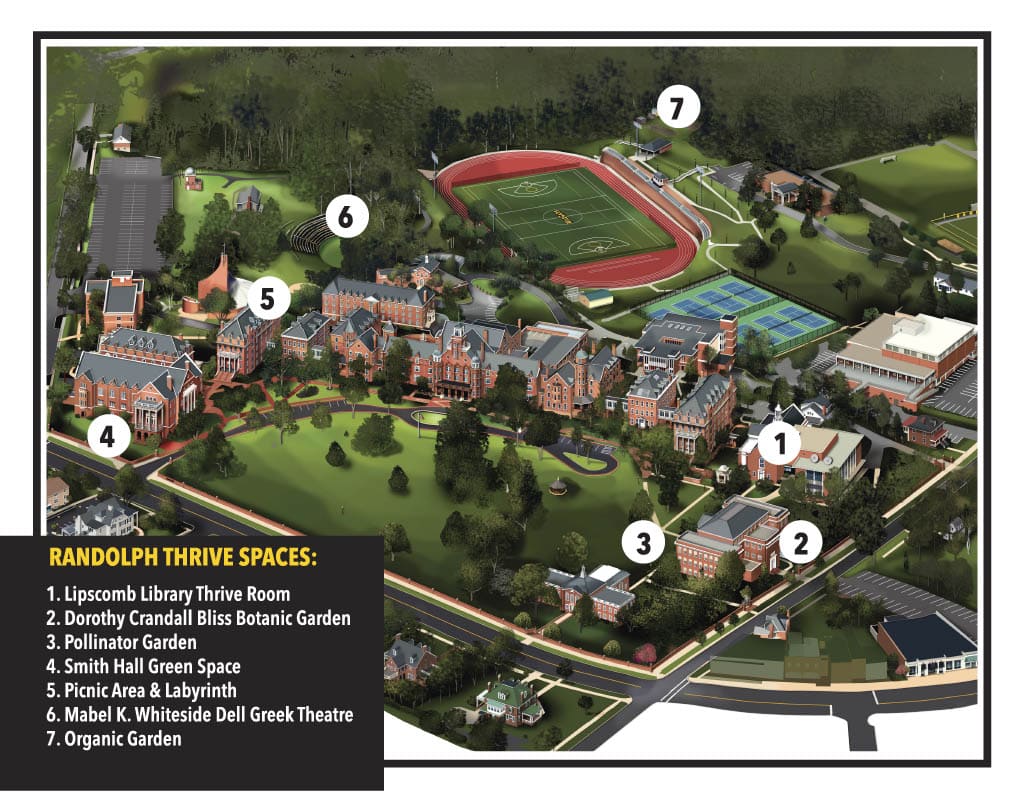 There are also plans to include an indoor space in Lipscomb Library, something Whitlock and Green will continue working on next semester.
"These are already existing spaces on campus that we just felt could be put to use," Lorson said. "In that sense, our program is very sustainable, using things we already have."
They recently installed signage explaining the program and its purpose, with a QR code linking to the program's website, which includes suggested activities to help visitors connect with nature. They've already put together yoga tips, with guides about cloud watching, tree identification, and wildlife in the works.
"Anyone can use these guides in any of our Thrive spaces," Lorson said. "People can decide what works best for them and their experience. The guides will be printable, though we will be encouraging the use of the virtual format to save paper."
Eventually, hammocks, yoga mats, frisbees, and other equipment will be available for students to use in the spaces, possibly through a check-out process similar to the Bike Share program.
They've gotten support along the way from Warren and Sustainability Coordinator Allison Brooks, along with the environmental studies and environmental science departments, the Sustainability Council, the Environmental Club, WildCat Wellness Council, and Student Government, which provided funding for items like the yoga platform.
Students also worked closely with Counseling Center Director Jennifer Bondurant, who sees Thrive as a resource for the entire Randolph community.
"I'm thrilled to see students highlighting the importance of self-care and creating a program that has such a strong focus on overall well-being," Bondurant said. "I think anyone who chooses to participate will benefit from the program, and I hope our students will learn how to weave the practice of being in nature into a consistent self-care routine."
For more information, visit http://environment.go.randolphcollege.edu/environmental-studies-science/randolph-thrive.
Tags:
campus life, environmental studies, mental health, Randolph Thrive, Student Life, wellness