April 30, 2021
Internship with children's museum prepares Randolph student for the future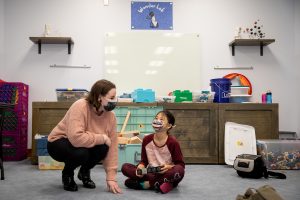 Hayley Eubank '22 visited Amazement Square often growing up, participating in the nonprofit's various programs and events.
Now the roles are reversed. As a museum education intern, Eubank is the one leading children on adventures through the downtown children's museum.
She's been involved in special events like the Fairy Tale Tea Party, as well as outreach programs like Scorpy Scholars, which has provided a physical site for children participating in remote learning this year.
"I've been able to help them complete their school work, guide them through various activities, and facilitate an arts and crafts lesson each day," said Eubank, who is majoring in art history, studio art, and museum and heritage studies.
She also was involved in an arts outreach program for special needs children, offered through a partnership between Amazement Square and the Kennedy Center for the Performing Arts.
Her ultimate goal is to become a museum educator, creating programs geared toward underserved communities.
"I believe that anyone, regardless of background, deserves to experience museums and the endless opportunities for enjoyment and learning they offer," she said. "This has only solidified my passion for creating programs that anyone can enjoy."
Tags:
art history, Hayley Eubank, internships, museum and heritage studies, museum education, spring 2021 internships