April 1, 2021
Making it count: Randolph math professor finds success on YouTube
Michael Penn has created something of a cocoon in his basement. Moving blankets hang on the walls and a piece of foam is attached to the ceiling, creating a makeshift studio where the Randolph math professor can record content for his popular YouTube channel.
Well before COVID-19 forced many college courses online, Penn was using a hybrid approach to teaching.
His mathematics popularization project began in 2019 when he decided to flip his courses, an approach based on the idea that lectures or direct instruction aren't the best use of class time. For Penn, that involved filming lecture videos students would watch before class, so the majority of their time together could be spent on actual problem solving.
"I'd put students in groups and they would do math problems on the chalkboard together, which makes class really dynamic and active," he said. "It also gives me an immediate assessment of how they're doing. I can stand in the middle of the room, look around, and go help when I need to."
He eventually uploaded the lectures to YouTube and saw his audience numbers and views take off as he connected with other popular math channels on the platform.
At the beginning of 2020, he had 1,000 subscribers, which grew to 50,000 by the end of that summer and continues to climb. At the end of March, he had more than 135,000 subscribers and was averaging 1.5 million views a month.
He still posts lectures for his classes each semester and plans to update some of his earlier ones, now that his production quality has improved.
He also makes what he refers to as popular videos, tackling competition math problems.
"When it was going really fast, I would post one video for a class per day and then one popular video per day," Penn said. "Now I post like two videos per class per week, and maybe five popular videos. I found this niche where I take competition problems from other countries, and I make videos about them. I think that's really made my audience global. People love the math contest problems."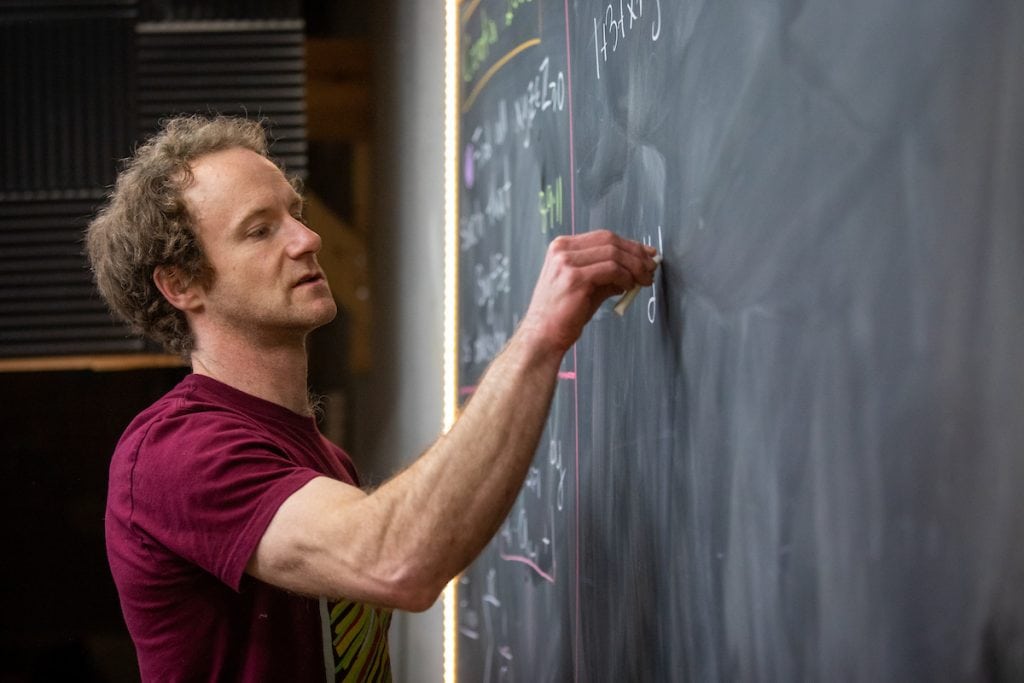 He also credits the pandemic with contributing to his channel growth.
"Everyone was at home," Penn said. "I've had people comment, telling me my videos got them through a class when we went online. Other people, when they're bored at home, want to just learn some new stuff. Some are former teachers or have subscribed because they're nostalgic about their time in college."
Most of his videos—nearly 1,000 so far—feature Penn in front of a chalkboard, writing out equations.
Occasionally, he'll venture outside the box, throwing in a few of his signature backflips (Penn was a diver in college).
In early January, he recorded himself completing a rock climbing test, named for a Norwegian climber, that was the subject of a series of viral videos at the time. He followed it up with a problem from the 2021 Norwegian Math Olympiad.
In February, he completed a series of number puzzles in a video called Mathematical proof that 2020 is the worst.
Penn has also teamed up with other professors—members of what he calls "a whole math YouTube crew"—to create back-and-forth videos.
His recording and editing skills have grown alongside his audience. Penn typically films three videos in a weekend, giving himself audio cues of where to make cuts to shorten the editing process.
"I'm a big fan of making it as efficient as possible, so I cut out all of the erasing of the chalkboard," he said. "I'll do these things where if a problem has several steps, I'll outline the steps to the right of the screen in boxes, and make it look like I'm clicking a box."
The chalkboard may seem retro, but it actually adds to the appeal.
"Even in the 21st century, I bet 90 percent of mathematicians would prefer to see someone give a talk using a chalkboard rather than slides," Penn said, "just because of the creation part of math."
Tags:
math, mathematics, Michael Penn