January 28, 2021
Randolph welcomes Class of 2024 to campus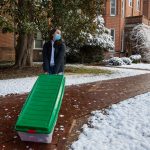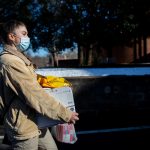 Elana West-Smith '24 was completely ready for move-in Thursday morning—until she arrived on campus. Then the nerves set in.
"This is real. This is a big thing. I'm in college," she recalled thinking. "I pulled up to Main Hall first and had time to look around."
All Randolph students were given the option of remaining off campus and online or living on campus. Classes for the spring semester will be a mixture of online, in-person, and hybrid, depending on the professor and class.
Though athletes and some other student leaders are already on campus, Thursday was the official start of move-in for first-years. Other students will continue to arrive through Sunday. In all, 240 students will be living on campus this semester.
West-Smith said Randolph's welcoming atmosphere and small size have already made the transition easier.
"It's great to go where people want to help you," she said, noting the challenges of virtual learning last semester. "A lot of people don't understand the mental impact it has on us. I'm so excited to be here."
That sentiment was common among first-years Thursday, their nerves mixing with excitement and the added complications of starting college in the midst of a pandemic.
"It's a little nerve wracking, but you just have to keep going," said Thomas Windsor '24. "Everyone has been really helpful."
Students will be required to follow strict health and behavior protocols this semester. But for many students, like Alejandra Portillo '24, all of the safety precautions that have been put in place are reassuring.
"I feel like they've taken all the steps to keep us safe," she said.
Students were required to provide a negative COVID-19 PRR test before coming to Randolph. Once they arrived for a snowy move-in on Thursday, the students' temperatures were checked, and each was given a rapid COVID-19 test. Once those were confirmed negative, the unloading and unpacking began.
After a semester online, the first-years all looked forward to experiencing life on campus in person. Windsor, guitar in tow, was ready to dive further into his music studies. West-Smith was eager to get a look at the Poetry Tree, one of the things that originally drew her to the College.
Joiya Napier '24, who connected with classmates during virtual learning last semester and has stayed in touch with them through a group chat, couldn't wait for her friends to get there.
But for Abriah Raye '24, it was even simpler: "It's just the experience of being here."
Tags:
Class of 2024, First-year, move-in day, Spring 2021