January 31, 2021
Randolph cancels all classes for Feb. 1 due to inclement weather
The following message was sent to the Randolph community on Sunday, Jan. 31.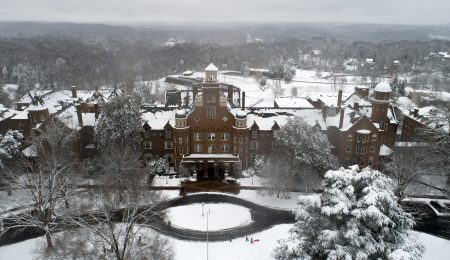 Dear Students, Faculty, and Staff,
Nothing starts off the spring semester like a snowstorm! Due to inclement weather and hazardous driving conditions, Randolph College's campus will be closed on Monday and all classes, as well as in-person activities, are canceled. Staff who are able to work remotely should do so. Essential personnel who work on campus, please contact your supervisors.
Students, please note that Cheatham Dining Hall will be open today for students between 11 a.m. and 6 p.m. On Monday, February 1, Cheatham will be open at 9 a.m. and close at 6 p.m. The Skeller will be closed.
If you have not signed up for Randolph's text messaging alert system, we encourage you to do so here. This system is used to communicate urgent, emergency, and important information to our community members.
Enjoy your day and please take caution while moving around campus.
Tags:
inclement weather, snow closing