November 22, 2020
Ready for action: Newly renovated athletic center designed to meet the needs of students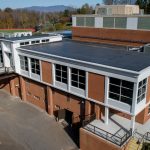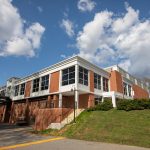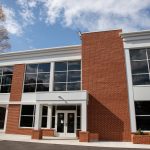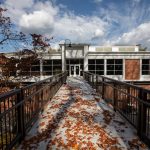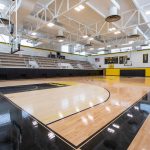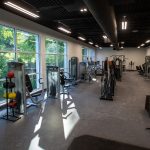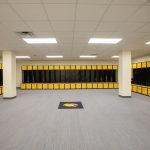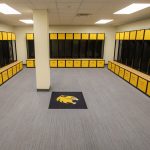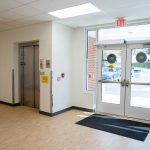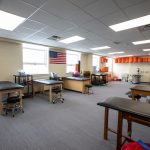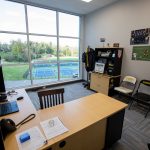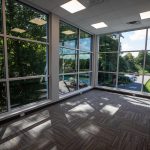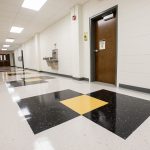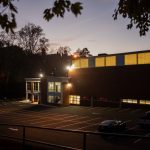 After more than two years of renovations, Randolph's new athletic center is ready for action.
The project, which cost about $5 million, was made possible by generous donors who contributed $3 million. This included two leadership gifts, including one from emerita trustee Mary Michels Scovanner '77, for whom the center is now named, and the other from an anonymous donor.
The Michels Athletic Center (MAC) features state-of-the-art facilities designed to meet the needs not only of Randolph's growing athletic program but the entire campus community.
"This renovation will have a dramatic impact on student life," said Bradley Bateman, Randolph's president. "Our student-athletes will have access to a significantly improved facility, but our entire community will be able to take advantage of this more inviting and usable space. Randolph's students are committed scholars who realize that a well-balanced, healthy life includes both the mind and the body. Providing a welcoming environment to promote that philosophy is important to us."
Mary Michels Scovanner was a student-athlete during her time at Randolph-Macon Woman's College, playing field hockey and lacrosse. She has been a major contributor to student life in recent years. Among her contributions was funding for Michels Plaza during the Student Center renovation.
"We are grateful to Mary Scovanner and the anonymous donor who together made these changes possible," Bateman said.
The renovation brings the building into the modern era, said Mitch Wesolowski, Randolph's vice president for finance and administration.
"It will add to the recruitment efforts of our athletes, as well as the entire student body, because you have facilities that all students can use," he said. "That's an important item for us, looking forward to the future, to have a facility that meets those technology and infrastructure needs."
Constructed in 1962, the building has gone by several names during its existence. In addition to its most recent name as the Randolph Athletics and Dance (RAD) center, it was formerly known as the Physical Education and Recreation (PER) Building. Smaller updates were completed in 1993 and 2000. And in 2015, the dance studio received new, modern flooring, courtesy of another donor, Sue-Gray Goller '73. But the latest renovation is the largest and most expansive.
The first three phases were completed this fall, while construction on phase four, which will add a lane to the center's five-lane pool along with other updates, is set for next summer.
The first step of the project was the renovation of the Frances and Don Giles Gymnasium, which received new flooring, air conditioning, enhanced lighting, energy-efficient windows, and a wheelchair lift to make the stands more accessible, among other improvements. The upgrade to the gym was funded through numerous donations in honor of Don and Frances Jones Giles '65, both trustee emeriti.
"The upgrades made to the gym have impacted my program the most," said Head Volleyball Coach Kara Matthews. "We begin pre-season in August, in the heat of the summer, so the addition of air conditioning has monumentally changed my athletes' experience."
Now that the second and third phases are complete, the MAC features an upgraded entrance, a new fitness center/weight room with floor-to-ceiling windows that overlook West Campus Drive, and a new aerobics room, all located on the main floor. Locker rooms, team rooms, and athletic training areas were enhanced, and additional offices, conference rooms, a concession area, and an elevator were added.
"We've expanded support spaces to adequately accommodate our growing programs," said Kevin Porterfield, associate athletic director and head women's soccer coach. "The weight room is a more usable space that will allow teams to work out together rather than in smaller groups, and the athletic training room has a larger capacity than our previous room."
The renovation also included office space for all of the coaches.
"It creates a stronger community and convenience," Matthews said. "The people here at Randolph College are what make this place special, so being together under the same roof will allow us to grow together and share more of our everyday experiences."
The team rooms are a big hit among coaches and students. The old facility had two—one for men's teams and one for women's, all shared among in-season teams—with wooden cubbies where students could put their things during games and practices.
Four team rooms means no sharing is required, and the new spaces are decked out in team colors with full-size lockers, flat-screen TVs (allowing coaches to break down game film), and new carpeting with the WildCat logo front and center.
"It is everything a student athlete could ever want, with upgrades that are going to help us work harder than ever," said Madi Tyree '23, a forward on the women's basketball team. "The facility was made for sports teams to have a better, more enjoyable experience, but everyone will find value in it. It's too nice not to. I always say you have to look good to play good, and if that's the case, then boy are we going to play good."
Randolph has consistently worked to meet the needs of students, said Athletic Director Tony Berich.
"When you add everything together—since I've been here, we've replaced the turf at the stadium, resurfaced the tennis courts, and now this—our athletic facilities are definitely in the upper echelon of the ODAC," he said. "It puts us on par with the other schools in the conference, which is one of the top conferences in the country."
Tags:
alumnae giving, alumni giving, athletics, Frances Jones Giles, Giles Gymnasium, Mary Michels Scovanner, Michels Athletic Center, RAD Center renovation, Sue Gray Goller, Vita No. 9