June 24, 2020
Summer Research Project analyzing the effects of elevated heat, carbon dioxide on agricultural crops
This story is part of an ongoing series featuring the work of faculty and students participating in Randolph's Summer Research Program, which is being held virtually this year due to COVID-19.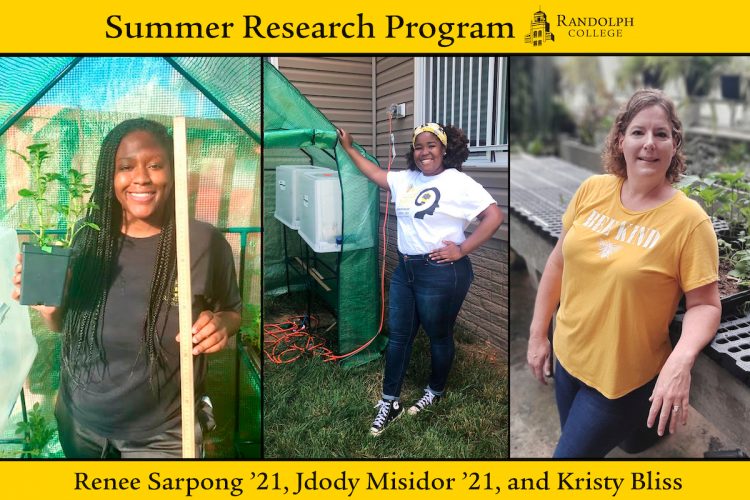 It's a given that increased carbon dioxide levels are going to affect plants, but Jdody Misidor '21 wanted to know more—so she proposed a Summer Research Project to study it.
"I wanted it to be more in the direction of my passion in the sense that, being born in Haiti, I realize some of the problems that exist there are because of deforestation," which causes the loss of a natural carbon dioxide sink, she said.
"One of the things we're looking at is, yes, we realize there is going to be an effect with the C02 rising, but what is the medical aspect? What is the health aspect? Will this cause health issues beyond what we're aware of?"
The project Misidor is working on with biology professor Kristin Bliss and Renee Sarpong '21 looks specifically at the combined and independent effects of enhanced levels of carbon dioxide and temperature—factors of climate change—on plant growth, morphological characteristics, and chemical toxins. Their ultimate goal is to assess and determine the impact of these components on overall biodiversity, economic influence, and ecosystem services.
"I've always found environmental science very interesting because it's something we use every day," Sarpong said. "You can see the effects, and they have real impact. It's something that could happen in the real world. So that's why I was interested in it."
They're studying two crops in particular, potatoes and tomatoes, both of which produce a toxin called solanine when they're put in unfavorable conditions. Solanine inhibits damage from herbivory and fungal pathogens, and Misidor was interested in what happens to solanine concentration when crops face those unfavorable conditions.
The trio was originally supposed to do the work together in Randolph's greenhouses but had to adjust when the program moved online due to COVID-19.
Misidor and Sarpong have both set up pop-up greenhouses in their own backyards—Misidor in Spotsylvania and Sarpong in Fredericksburg—while Bliss has worked on campus.
"We all have our different trials," Sarpong said. "Dr. Bliss has one trial, Jdody has the second trial, and I have the third. We're all administering the same effects."
The effects are being administered via a process Bliss and a group of students pioneered a few years back while studying what elevated C02 does to several species of plants. To do these types of experiments, Bliss said researchers either have to immerse their entire greenhouse in C02 or set up a chamber where the specific plants they're studying can be placed.
Chamber systems are expensive, so Bliss and her students created their own, drilling holes into clear plastic tubs that were then hooked up to C02 tanks.
This summer, Misidor and Sarpong have the same chamber system set up in their own greenhouses, but instead of hooking them up to C02 tanks, they're blowing C02 they've produced into the chambers, Misidor said.
"Because we are doing the experiment remotely, we had to change things up," she said. "It's different. I've never done that."
Bliss's previous work was done during the regular academic year, so the summer temperatures are a new factor they've been dealing with.
"The chambers here at Randolph are heating up too high," Bliss said. "And for Jdody and Renee, because they're using pop-up greenhouses, their plants are sometimes getting to 120 or 130 degrees Fahrenheit, which will kill them. We're actually in the midst of halting the experiment early because we want to be able to still have data, and once your plants die, you don't have any."
Bliss said the plants that have experienced the elevated levels of C02 were yellowing and browning, while her control plants were still green and healthy.
"The chamber system we're using is OK," she said. "That's not what's killing the plants. If the controls also die, you're looking at a failed experiment, and that's not happening here."
Their time frame is lining up with other similar experiments, which Bliss said have looked at plants over a period of four or seven days—sometimes up to a month—but not much longer.
"I'm not really finding, with this sort of experimental design, any that are designed to be really long term."
The work they're doing would have been hard to pull off for novices, but Bliss said both Misidor and Sarpong came to the table with previous experience from her botany classes.
"They have a basic knowledge of how to take care of plants," she said. "Cutting them loose to try and do this at their own homes, if they didn't have at least that background, probably would be very problematic."
"Jdody and Renee are fantastic students that excel at creative problem solving," she added. "They have been cheerful
and flexible in dealing with the changes in their project that were necessary."
Tags:
biology, botany, climate change, Kristin Bliss, student faculty research, summer research, summer research 2020