June 26, 2020
Telling their stories: Summer Research looking at how schools reflect social, economic changes
This story is part of an ongoing series featuring the work of faculty and students participating in Randolph's Summer Research Program, which is being held virtually this year due to COVID-19.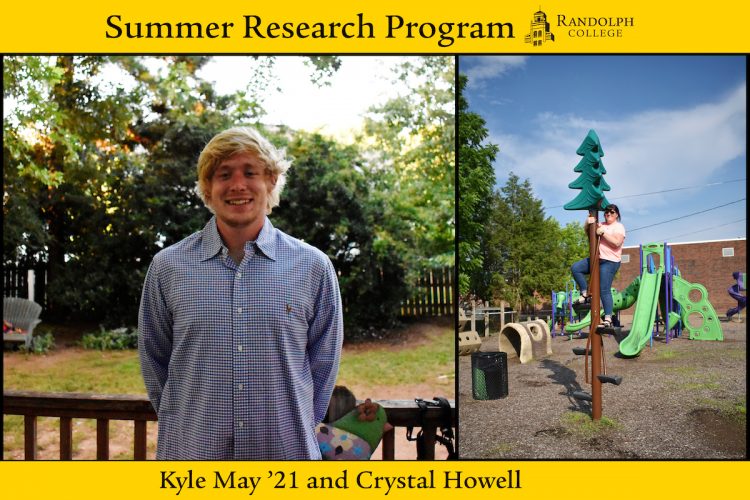 Kyle May '21 and education professor Crystal Howell are working to tell the stories of three different communities, reflected in both the industries that sustain them and the conditions of their schools, through work for Randolph's Summer Research Program.
Their project will study what Howell called the "boom and bust economics" of communities that have been primarily reliant on extractive industries.
"Specifically, we're looking at three communities: One where the economy has really been shaped by the timber industry, one that has been shaped by the coal industry, and one that is being shaped by natural gas fracturing, or fracking," she said. "Because school funding in most states is primarily built around property taxes, one of the ways we speculated you can chart or see economic changes in a community over time is by looking at the school buildings themselves and how they are situated within the community."
The idea came from Howell's own experiences growing up in West Virginia, seeing how communities there have changed, as well as those of friends and former colleagues who were impacted firsthand by those changes.
"Teachers in Boone County, West Virginia, in the last couple of years have seen their pay and benefits sharply decrease," she said. "For the last several decades, it's been the home of large coal plants and coal mines, and their supplemental pay was the highest in the state. But the bottom fell out of that a few years ago, creating the kinds of changes in pay and benefits that mean it's no longer feasible for them to live their lives in this community. So that was part of what got me thinking about this project, as well as talking with a colleague who works in Colorado at a conference last fall. There are other kinds of mines there, but they have had similar experiences."
In addition to visiting the three chosen communities—Richlands, Virginia; Buckhannon, West Virginia; and Wilkesboro, North Carolina—Howell and May will analyze tax data from specific points in time, to see how much revenue was being generated. They will then juxtapose those numbers with historical images of each community's schools from the same time periods, as well as today.
"The industry was the first consideration, but we also had the practical element of needing to choose communities where there were some organizations that might be able to help us find those historical images, like a county historical society or a local tourism board," Howell said. "We needed some kind of contact for us, and places where we could find information online."
They'll be taking their own photos of the buildings—Howell in Virginia and West Virginia, and May in North Carolina—as they exist today, a creative outlet both were excited to explore.
"The economic aspect of school funding really interested me," said May, an economics and history major. "And I have always enjoyed photography. So that aspect, taking photos of the schools and going through the history of how the school got to where it is today, also interested me."
Howell said integrating different research methods is part of the fun of this particular project.
"We have this very quantitative process where you get into data about how schools are funded, what revenue is collected by the state, by local school divisions," she said. "Visit SiteBut then alongside that, we're also pulling from a qualitative research methodology. We really want those two pieces to help us present a more complete picture of what happened to these communities. So we'll have, hopefully by the time we're done, a sequence of images for each community that gets woven together with the numbers."
Their goal is to create exhibits for each locality, where the images and numbers will be displayed together, though they're not sure if those will be held in person or virtually at this point.
"I think that's a really important aspect of the project," May said. "We're going to try to do that in each community we visit."
"To learn about our project, you don't necessarily have to read an academic paper," Howell added. "You can visit this exhibit and see how this community has changed as represented by their schools and alongside that, you can see those numbers."
Tags:
Crystal Howell, economics, education, student faculty research, summer research, summer research 2020