February 17, 2020
Alumna featured on Next Lawyer Up podcast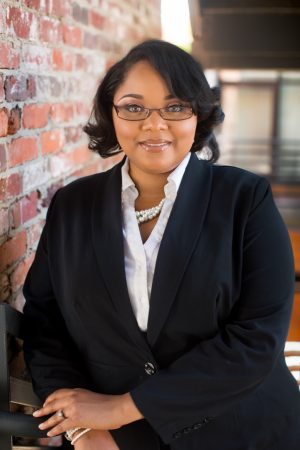 A Randolph alumna was recently featured on the Next Lawyer Up with Ron Sykstus podcast, a program that highlights well-respected lawyers.
Nesha Wright '08, who is the founder and principal of the Spencer Wright Law Firm in Huntsville, Alabama, talked with Sykstus for the program, which is featured on the Bond & Botes, P.C. website.
While at the College, Wright double majored in English literature and religious studies. She then earned her law degree from Cumberland Law School at Samford University. Her practice focuses on juvenile and family law and criminal defense. She also volunteers with the Alabama Lawyer's Association, the Madison County Volunteer Lawyers Program, and works with students interested in the field of law. Highly respected in the legal field, Wright was recently named the 2019 South Super Lawyer Rising Star.
She credits her Randolph professors for helping her be successful in her law career.
"The two professors who I felt were instrumental to my education were Professor Heidi Kunz and Professor Gordon Steffey," Wright said. "They were wonderful as instructors and both served as my faculty advisors for my major. I have been fortunate to continue to lean on their guidance and wisdom post-undergrad in my ever-evolving career and especially in my teaching endeavors on the collegiate level. "
Learn more about Wright and her accomplishments on the podcast.
Tags:
comparative philosophy, English literature, Gordon Steffey, Heidi Kunz, lawyer, Nesha Wright, outcomes, religious studies