January 31, 2020
Scholar on African history, heritage to give two-part Thayer Lecture at Randolph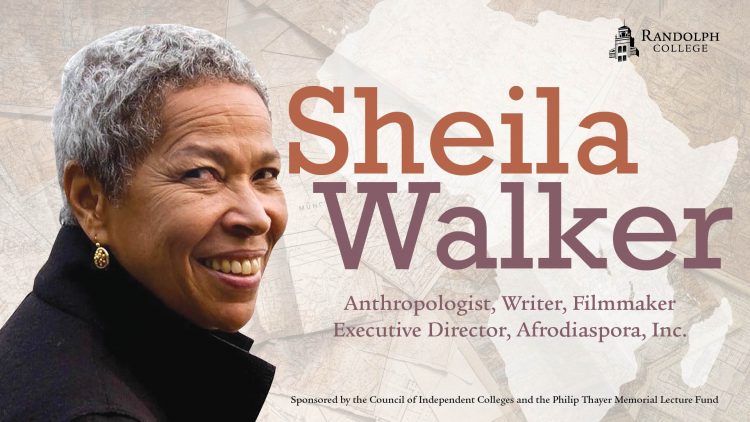 Randolph College will host a two-part Thayer Lecture featuring Sheila Walker, a cultural anthropologist, writer, and filmmaker who has taught African and African American studies at the University of Texas, Austin, and directed the African Diaspora Program at Spelman College.
On Monday, Feb. 10, at 7:30 p.m., Walker will show Familiar Faces, Unexpected Places, a film about the global African diaspora and its contributions to knowledge, followed by questions and discussion. On Tuesday, Feb. 11, at 7:30 p.m., she will give the lecture "Why You Can't Understand the Americas Without Africa," followed by questions and discussion. Both programs will be held in Nichols Theatre in the Student Center and are free and open to the public.
Walker currently serves as executive director of Afrodiaspora, a nonprofit organization dedicated to developing educational materials about the influence of Africa and people of African descent throughout the world. Her residency at Randolph the week of Feb. 10 is made possible by the Woodrow Wilson Visiting Fellows Program of the Council of Independent Colleges, and by the Philip Thayer Memorial Lecture Fund.
"Dr. Walker is an excellent fit for Randolph College at this point in its history, as it vigorously seeks to intensify its focus on interdisciplinary collaboration, global issues, and relatively underemphasized portions of the planet," said John d'Entremont, the Theodore H. Jack Professor of History. "During the week she will show one of her documentary films, give a major lecture, visit a variety of classes, and converse informally with a range of interested students, faculty, and staff."
Walker has done fieldwork, lectured, consulted, and participated in cultural events in much of Africa and the African Diaspora. Her works include the documentary film, Slave Routes: A Global Vision, for the UNESCO Slave Route Project, and an edited book, Conocimiento desde adentro: Los Afrosudamericanos hablan de sus pueblos y su historia (Afro-South Americans Speak of their Peoples and their History), featuring articles by Afrodescendants from all of the Spanish-speaking countries of South America. She also edited the volume African Roots/American Cultures: Africa in the Creation of the Americas and produced the documentary Scattered Africa: Faces and Voices of the African Diaspora. Walker was director of the Center for African and African American Studies, the Annabel Irion Worsham Centennial Professor in the College of Liberal Arts, and Professor of Anthropology at the University of Texas at Austin, and she was the William and Camille Cosby Professor in the Humanities and Social Sciences, Professor of Anthropology, and director of the African Diaspora and the World Program at Spelman College.
The annual Philip Thayer Memorial Lecture, named for a respected Randolph history professor emeritus, brings scholars to Randolph each year to speak on the liberal arts. The event is made possible by the Philip Thayer Memorial Lecture Fund.
Tags:
African American studies, events, history, Philip Thayer Memorial Lecture, speakers, thayer lecture