January 13, 2020
Renowned poet, scholar Joanne V. Gabbin to deliver keynote at MLK celebration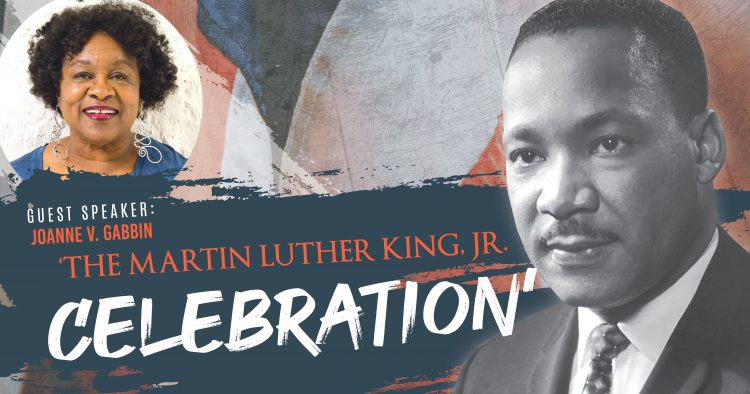 Randolph College is pleased to host its annual Martin Luther King, Jr. celebration on Monday, Jan. 27, at 5 p.m. in Houston Memorial Chapel. The event is free and open to the public, and Joanne V. Gabbin, founder and executive director of the Furious Flower Poetry Center and English professor at James Madison University, will deliver the keynote address.
In addition to Gabbin's public lecture titled "Martin Luther King and the Power of a Committed Life," the event will include performances by the Randolph College Step Team and Songshine, the reading of Martin Luther King, Jr. quotes by students, and speeches by other members of the Randolph community.
During her visit to campus, Gabbin will also have dinner with members of Randolph's Black Student Alliance, meet with creative writing faculty and students, and visit a class.
"It's always important to me to go to the heroes of the past who help us to live our lives in a more committed and meaningful way in the present and future," Gabbin said. "I think my visit to Randolph College will be an opportunity for me to connect with students and help them to establish the heroes that will help direct their lives."
As executive director of the Furious Flower Poetry Center, Gabbin has organized three international conferences for the critical exploration of African American poetry. The first, "Furious Flower: A Revolution in African American Poetry," held in 1994 with Gwendolyn Brooks, gathered 35 acclaimed poets to James Madison University in the first conference of its kind. The second, "Furious Flower: Regenerating the Black Poetic Tradition," brought together more than 50 nationally and internationally renowned poets in 2004 and was dedicated to two architects of the Black Arts Movement, Amiri Baraka and Sonia Sanchez. In September 2014, she organized the third conference, "Furious Flower: Seeding the Future of African American Poetry," which was dedicated to Rita Dove and had more than 60 invited poets and scholars. Since the establishment of the Furious Flower Poetry Center, the first academic center devoted solely to black poetry, Gabbin has guided the development of seminars, readings, collegiate summits, literary tributes, and the production of video anthologies and other educational material.
A dedicated teacher and scholar, Gabbin has received numerous awards and recognitions for excellence in teaching, scholarship, and leadership. Among them are the College Language Association Creative Scholarship Award for her book, Sterling A. Brown; the James Madison University Faculty Women's Caucus and Women's Resource Network Award for Scholarship; the Outstanding Faculty Award, given by the Virginia State Council of Higher Education; the Provost Award for Excellence; and the JMU Distinguished Faculty Award.
Gabbin has been inducted into the International Literary Hall of Fame, and in September she presided over the 25th Anniversary of the Furious Flower in Washington, D.C., hosted by the National Museum of African American History and Culture.
"We are thrilled that Joanne V. Gabbin will be giving the keynote at our annual Martin Luther King, Jr. celebration this year," said Bradley W. Bateman, president of Randolph College. "I am also grateful that she will be spending time with many of our students and offering her expertise on poetry and African American arts and culture. Bringing scholars and artists like Joanne to campus is an integral part of the education we provide at Randolph, and I know her remarks will resonate with and inspire our students."
Tags:
Bradley W. Bateman, events, martin luther king jr., speakers