November 13, 2019
Randolph to present fall theatre production, The Sea Voyage
This Thursday, audiences are invited to set sail for a good time as Randolph's theatre students perform the classic comedy, The Sea Voyage.
Inspired by Shakespeare's The Tempest, The Sea Voyage includes singing, dancing, shipwrecks, unexpected love, reunions, French pirates, castaways, a society of Amazonian women, and a little buried treasure. Written by John Fletcher and Philip Massinger, this Randolph play is directed by Patrick Earl, an adjunct professor in theatre.
Show times for The Sea Voyage are November 14-16 at 7:30 p.m. and November 16-17 at 2 p.m. Tickets are available for purchase at https://www.randolphcollege.edu/tickets/.
Here is what a few of the students in the cast and crew have to say about the production: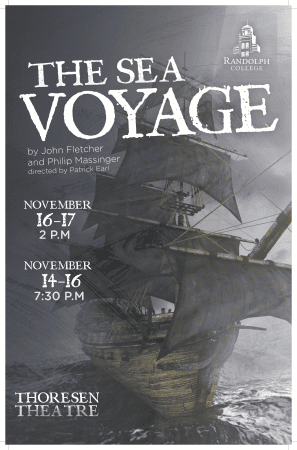 Sarah Wardlow '20
"I am in the position of stage manager for The Sea Voyage, which means my role is running the show behind the scenes. I've worked as stage manager before, as well as acted, and there are a few reasons I keep returning to the theatre at Randolph. First, theatre is a passion of mine, and even if I wanted to quit I just couldn't imagine not doing this. Second, the program at Randolph has really taught me where my skills lie and how to cultivate them. Before getting involved, I never would have thought about stage managing a show, and I was able to learn my strengths and weaknesses as an actor.
"With The Sea Voyage, and being able to observe the rehearsal process, I've really enjoyed seeing this show go from a script in the hands of the actors to a touching, yet wildly funny story. The whole cast and crew has worked hard on this production and I think they tell the story effectively. I'm most excited for the audience to pick up on the subtle jokes woven into the dialogue. The story moves quickly, and the visual combinations of the lights, set, and costumes are so dynamic. There are still times when I get lost in the play, even though I've seen it performed in rehearsal numerous times now! I can't wait for the show to open so we can share it with the audience."
Shakiah Johnson '20
"I play Clarinda, a young Amazonian woman. I am also the choreographer. I relate to Clarinda because she is so fascinated and enamored with the world around her.
"Randolph's theatre program is so inviting and all of the people involved are wonderful. My favorite part about this show was choreographing. I enjoyed creating dances that told the story as well as showcased the characters. I am excited for the audience to be transported into the story right along with us!"
Karyn Heisig '20
"In The Sea Voyage, I play the Boatswain and Crocale, one of the Amazons. I love the theatre department here because it's a community of people who are all driven by a passion for what they do. The faculty and students collaborate to bring our shows to life, and the relationships I have with all of the people I work under and with are ones I treasure. I've always felt at home in Thoreson Theater, and that feeling has been what's kept me there throughout my Randolph career.
"The thing I've enjoyed the most about this production is how much fun it all is. This play hasn't been produced many times, so to have this incredibly funny, ridiculous story and be able to really make it our own has really just been a blast. I'm excited for people to see some swashbuckling pirates, fierce Amazons and all the mayhem that ensues when they meet. I want people to sing along, to laugh, and to smile from ear to ear at this ridiculously wonderfully funny show."
Thao Ho '23
"In the production I play Nicusa, who is the nephew of the Portuguese nobleman Sebastian (played by Tyshae Gipson '23). Nicusa has lived with his uncle on a barren and deserted island for many years, until they spotted a ship. Sebastian and his nephew, Nicusa, watch the ship make its way to the beach. The two men reveal they have been stranded on the island, suffering from hunger and thirst, after being victims of a pirate attack that divided them from their families. Sebastian and Nicusa tell the newcomers the island is bleak, and though they did hear other people, they could never find them. While the French fight over the treasure that washed up on shore, Sebastian and Nicusa escape on the French ship.
"I decided to get involved with Randolph's theatre program in my first year here because I was in many shows in my hometown, and when you know you have a passion for something you love, you should definitely continue that path. That's why I wanted to share my passion with Randolph College. Since I am from Chicago, Illinois, I had a lot of anxiety about going to a completely different school in a completely different state. But not too long before the audition for The Sea Voyage, I was introduced to a few upperclassmen who were already part of the theatre program, and they were definitely welcoming! They even supported and encouraged me the day of the audition, which helped reduce my anxiety. Now I am such great friends with the people in the theatre program. Also, I am definitely new to the language of the play, but the members of the theatre program are such sweethearts! They were able to help me with the language in order to understand the play. Plus, if I ever need to talk with someone, people from the theatre program are the first people I would go to! Overall, people within the theatre program have been such great listeners, supporters, and such role models.
"My favorite moment has to be at the end when everybody is together and singing the last piece called "Heavy." Even though there were some ups and downs, we still supported one another and had a good laugh together. Therefore, the last scene captured the perfect image of the overall message of the production. I am most excited for audiences to see the set design and the foxes played by Jace Cornell '21, Sabina Sabat '22, and Olivia Green '22."
Elizabeth Beamon '20
"I play Roselia, who is the governess of a tribe of Amazons, one of whom is her daughter, Clarinda. Even though Roselia is an older woman (50!) and a mother, I think there are some similarities between us… or maybe things I'd want to have as similarities. She's very fierce, which I like, and she stands very firmly in her truth, which, for better or worse, is at least admirable.
"The theatre department at Randolph has been a really nice place to come into myself a little more as an actor, which is why I've continued to work with the department despite it not being my major. I feel like if you're wanting to do this kind of work, the College's theatre department will really help you along if you're willing to put in the time.
"I've really enjoyed working on this production as whole; there's no singular thing (except maybe wearing an eye patch) that I've enjoyed over everything else. This is my last time performing on the stage as a student of the College, so there's an excitement about this show that's familiar and strange at the same time. There's a bittersweet feeling about it, but with that comes a certain energy that has been really exciting to kind of work with.  I'm excited for the audience to see the dancing and the set, and I'm excited for them to hear the music and really just all the work that we put into making this thing. I'm really excited for people to see something that will make them laugh and hopefully have a good time."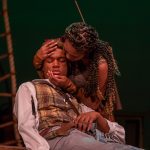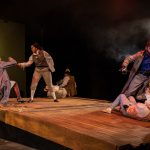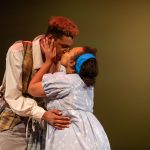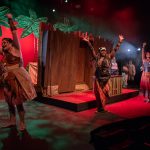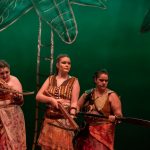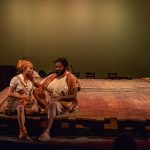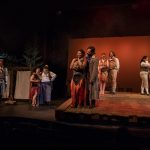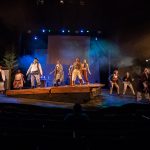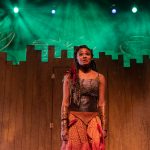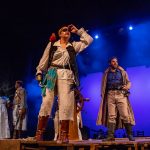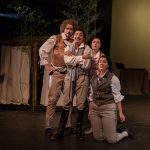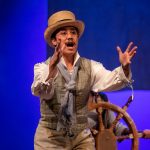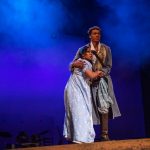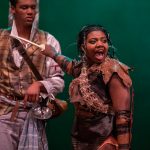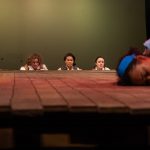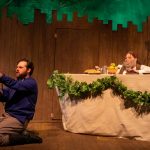 Tags:
events, performing arts, productions, theatre