August 9, 2018
Second sight: Community support enables Amadou Beye '19 to receive sight-saving surgery
For most of his life, Amadou Beye '19 suffered from severe nearsightedness. Growing up in Senegal, he recalls sitting with his face right in front of the TV to watch his favorite shows. By the time he went to college, his sight had worsened. Even with glasses, he had to squint to recognize his friends walking by on campus. And in math classes, he had to take photos of equations on the board with his phone so that he could zoom in to see them.
Frustrated, he saw a local ophthalmologist last fall who diagnosed his condition as keratoconus, a rare disorder in which the clear, dome-shaped tissue that covers the cornea thins and bulges outward into a cone shape. He was told if he didn't have corrective surgery within the next two years, the damage would be irreversible.
"After I left the exam room, I went to the bathroom, and tears were coming down my face," Beye said. "I was thinking about all the possibilities I would miss out on if I couldn't see and how I wouldn't be able to accomplish what I want to do in life. I just remember thinking, 'I'm done.'"
The potential loss of sight wasn't Beye's only worry. The procedure to restore his vision would cost thousands of dollars, and he was uninsured and already paying his own way through college. However, he was quickly reassured by an outpouring of support from his friends and family—and through his religious beliefs.
"I got to a point where I thought, 'I can take it,'" Beye said. "Everything happens for a reason. We all encounter challenges in life, and I took it as a chance to learn and be better and more experienced. After all, what's life without obstacles?"
Just a week before the spring 2018 semester began, Nancy Goulde, Randolph's coordinator of international student services, drove Beye to meet his parents in Virginia Beach where he had surgery on his left eye. As part of the recovery, the doctor prescribed special contact lenses that would help reshape his cornea. Beye will never forget the excitement he felt when he put them on for the first time.
"The clarity of things I saw just made me realize how amazing it is to be able to see," Beye said. "I couldn't remember another time in my life when I could actually see clearly, with no edges or blurs."
Beye had the procedure on his right eye during spring break. In the meantime, he took out loans to pay for the surgeries and for the special contacts. He also worked extra jobs around campus and in Lynchburg, and his parents took on extra hours at their jobs as well. Some members of the Randolph community even pitched in to help with the bills, and the College made special accommodations so his vision issues wouldn't affect his coursework.
Now, Beye literally has a new outlook on life, and the experience brought him closer to his family.
"If you have family, you're not missing anything," he said. "And that includes not only your actual family, but friends, coworkers, and others too. It's those people who are going to stand beside you no matter the situation, no matter the obstacles."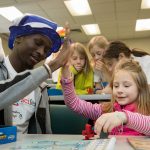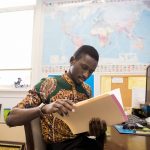 Tags:
Amadou Beye, international students, magazine, mathematics, Vita 2018 July, Vita Vol. 1 No. 4