August 9, 2018
Kids say the most philosophical things: new program teaches philosophical concepts to children
After reading The Cat in the Hat aloud to the circle of first graders around her, Faith Powell '18 asked, "Would you have told your parents if the Cat in the Hat came and made a mess in your house?"
Several hands went up, and each student took time to carefully explain his or her position on the matter. Reactions were mixed, and the students deliberated by telling personal stories or offering humorous anecdotes involving their pets. Finally, one boy surmised, "I would've told mine because it's always good to tell the truth."
This kind of thoughtful discussion was the goal for Randolph's new Philosophy for Children program at James River Day School this spring. Created by Powell and Kaija Mortensen, a Randolph philosophy professor, the weekly sessions were designed to introduce philosophical concepts to children at an early age. One of the hallmarks of the program was "Philosophy Rules," a document that helped guide the conversation and reminded the students to listen to and respect each other's opinions.
"If you look at today's world, people don't know how to respectfully disagree with each other," Powell said. "If you turn on any given newscast, people completely shut down other's opinions without actually listening to what they're saying. Philosophy is a good practice because it teaches you how to listen first and then respond in a respectful, helpful way."
The program, Mortensen added, has a plethora of positive effects on young children.
"The phrase, 'kids say the darndest things,' partially comes from the fact that kids have the creativity and imagination to create and contemplate thoughts that have boggled the minds of thinkers for centuries," Mortensen said. "Children at this age may not be mature enough to have debates, so what better time to teach them?"
Several other philosophy majors, including Tristina Balsamo '19, Lydia Hamd '18, and Meredith Alwine '20, helped lead the sessions. Balsamo loved breaking down complex philosophical concepts into terms the students would understand.
"I love, love, love kids, and I want to be a college professor when I get older, so I thought it would be a good opportunity to teach people things that are really hard to grasp," she said. "You don't want to give them that initial idea that philosophy is really hard and complicated. Reaching them at a young age and being able to teach really important concepts is what drew me to this the most, and I've definitely learned a lot from it."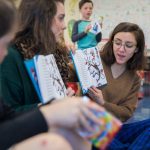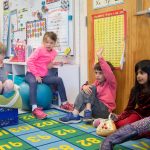 Tags:
comparative philosophy, Kaija Mortensen, philosophy, Tristina Balsamo '18, Vita 2018 July, Vita Vol. 1 No. 4