August 9, 2018
Career ready: New partnership better connects current students with alumnae and alumni
Jessica Burroughs '18 spent much of her senior year networking with alumnae and alumni in the financial sector in Washington, D.C. And in the spring, she was one of a group of students who embarked on a career immersion trip to the Federal Reserve and Commonwealth Retirement Advisors in Richmond, Virginia, where the students shadowed and gained valuable advice from new mentors.
At the time, Burroughs never dreamed that one of the connections she made during the trip would lead to a job after graduation.
"One of the employees there was very young and accomplished, so I connected with him on LinkedIn and ultimately had a great conversation with him about how he transitioned from college to becoming a financial advisor," Burroughs said. "After our talk, he sent me a link to a financial position in D.C. that he thought I would be interested in. It turned out that one of the alums I had previously spoken with worked at the company!"
She was hired as a human resources systems associate at EAB this June and is one of many students and graduates who have already benefited from Randolph's new partnership between Randolph's Career Development Center and the Office of Alumnae and Alumni. Christine Harriger, director of career development, worked closely with Phebe Williamson Wescott '78, director of the Office of Alumnae and Alumni, to develop the new initiatives.
"When I started here last year, I was thinking about ways to connect the dots," Harriger said. "I wanted to bring campus partners together to  collaborate in new ways to help our students and also alumnae and alumni."
One of the first steps in accomplishing Harriger's goals was to hire a new alumnae and alumni career network manager—a two-year position funded by an anonymous alumna. Kristin Dabney began her work in the position last summer, with a goal of increasing engagement between graduates and students on the subject of careers.
"Our focus is on growing our virtual community and resources for our graduates through affinity groups, a robust and active LinkedIn network, and providing education and support via our website," Dabney said. "For current students, we are growing our mentoring program, designing career immersion experiences, organizing on-campus panels of alumnae and alumni to share their expertise, and connecting students with selective internships."
In addition to the career immersion trip to Richmond, other programs this past year included an international career panel, a dining etiquette session, a social media branding workshop, and multiple job, internship, and graduate school fairs both on and off campus. The Career Development Center also continued offering its traditional services for students like LinkedIn workshops, Résumé Revamps, and internship counseling.
Burroughs credits the College for not only helping her make important contacts that led to a job interview, but also preparing her well for the entire job search process.
"Outside of one-on-one meetings, the Career Development Center hosted tons of events that provided me with more hands-on experience," she said. "A networking event last fall helped me practice my 'elevator speech.' LinkedIn workshops helped me improve my online presence, and the career immersion trip to the Federal Reserve of Richmond was one of the most fun things I did as an undergraduate. I got to meet with R-MWC and Randolph alums, along other finance and economics professionals, and pick their brains about what they do and how they got there. I recommend the CDC to all of my peers because it has helped me so much from presenting myself professionally to networking, and it really made a difference in my life."
Another important part of the initiative was to relocate the Career Development Center to an area on campus where it would be more centrally located and visible to students. The office moved from West Hall to Thoresen Hall last summer, just before the start of the 2017-18 academic year.
"What works best for a career center is traffic, and you can't be a hidden secret," Harriger said. "Being in Thoresen has allowed us to interact more with the students and made us easier to find, even for those who aren't necessarily looking for us."
The new partnership is not focused on just helping current students. Harriger works with many alumnae and alumni in revamping their résumés as well and has helped them become what she calls "reinvention specialists."
"A reinvention specialist is someone who has a read on the world of work and can tweak themselves and their skills accordingly," Harriger said. "So, if robots are coming in to replace repetitive actions, then you have to make sure that your career has some creative and interpersonal aspects that can't be replaced. That way, R2-D2 can be your sidekick but doesn't replace you."
Networking has also been a focus in the new partnership. In April, Dabney visited dozens of graduates on the West Coast. She met individually with numerous alumnae and alumni and also attended networking and chapter events, meeting graduates from 1956 to 2015.
"I was there to share updates about the school, certainly, but also to hear about career stories," Dabney said. "It was fun to connect with these people, and I think it was a testament to what our students get from the education here."
The number of alumnae and alumni who wanted to become more involved with the College and its students also impressed Dabney.
"What I'm hearing over and over as I meet with alums is, 'I wish they had this when I was there,'" Dabney said. "That seems to be the universal feedback I'm getting, and then the next thing they say is 'How can I help?'"
The third phase of the new partnership is to develop a new online community where Randolph's vast network of alumnae and alumni, current students, parents, faculty and staff, and other friends of the College can share career information, job postings, and other College-related updates. The new platform, powered by Graduway, will launch this summer and will be called RandolphConnect.
"This new platform will allow us to get people together virtually and to promote events both on campus in the career center and events the Office of Alumnae and Alumni is hosting across the country," Dabney said. "It will also allow us to ask people how they want to get involved, and that will be anything from serving as a class agent to hosting people who are interviewing for a job in their town."
President Bradley W. Bateman applauded the efforts by Dabney, Harriger, Wescott, and other staff to better connect the Randolph community at large.
"Randolph provides these career networking resources to further prepare students for lifelong career success and engagement with our campus community and to rekindle or solidify the connection our alumnae and alumni have to the College," Bateman said. "We hope that once our students graduate they will serve those who come after them, thus ensuring this tradition of alumni engagement."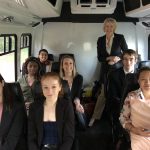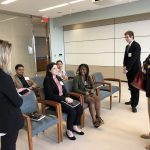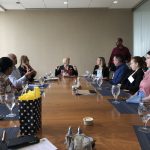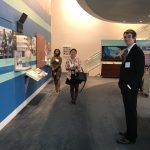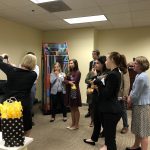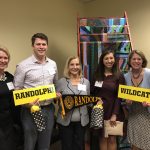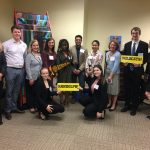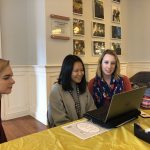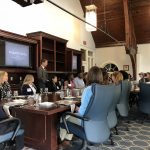 Tags:
alumnae, alumni, Bradley W. Bateman, career development, Career Development Center, Christine Harriger, internships, Jessica Burroughs '18, Kristin Dabney, magazine, networking, R-MWC Alumnae and Randolph College Alumni Association, RandolphConnect, Vita 2018 July, Vita Vol. 1 No. 4