July 31, 2017
Randolph announces new M.F.A. program in creative writing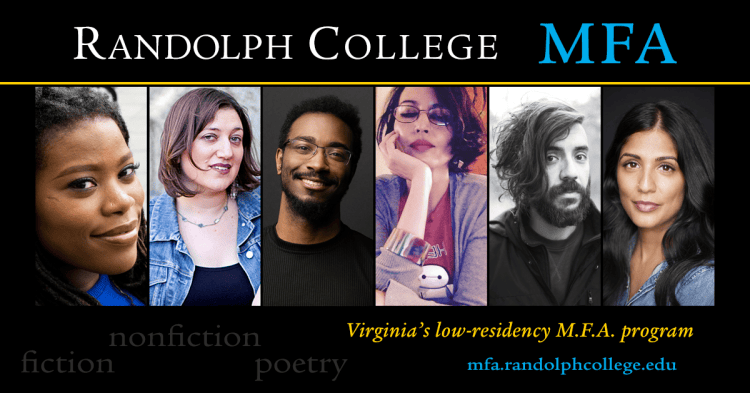 Randolph College has announced the addition of a new master of fine arts program in creative writing. The first semester is set to begin in July 2018.
The two-year, low-residency M.F.A. program is the first of its kind in Virginia, and will provide an immersive, personalized experience for students of all ages and backgrounds. The first semester will begin with a 10-day residency on the Randolph College campus, where students will participate in intensive discussions, lectures, workshops, readings, and panels focused on creative writing.
Following the residency, each student will work for 20 weeks to complete original new writing, revise works in progress, and write critical analysis essays. Throughout the process, students will work closely with the program's diverse, award-winning faculty.
"Students will be getting constant feedback from these world-class writers, which is what will really make this program thrive," said Gary Dop, Randolph English professor and director of the new M.F.A. program. "The students in low-residency programs tend to get a lot more faculty feedback and direction than students in a traditional program because they have that one-on-one, individualized attention."
The program's first core faculty members include Kaveh Akbar, Kaitlyn Greenidge, Mira Jacob, Aviya Kushner, Layli Long Soldier, and Phillip B. Williams. Three specialize in poetry and three in fiction/nonfiction writing.
"We wanted a highly accomplished group of faculty who represent diverse kinds of writing and backgrounds and who are writing work that right now is shaping literature and culture," Dop said. "These are people who are regularly in the New York Times, The New Yorker, Slate magazine, and major literary journals like Poetry and the Georgia Review. They're really amazing and exceptional faculty."
Akbar is the recipient of a Ruth Lilly and Dorothy Sargent Rosenberg Fellowship from the Poetry Foundation, a Pushcart Prize, and the Lucille Medwick Memorial Award from the Poetry Society of America. He is the author of the chapbook, Portrait of the Alcoholic, and his latest poetry collection is entitled Calling a Wolf a Wolf.
"It feels like such a privilege to be in on the ground floor of this program, to be working with this super-team of writers and poets to build a new kind of M.F.A.," Akbar said. "I can't wait to get to work with my colleagues, with my students—I think we really have the opportunity to build something special."
Dop is also eager to get started and has dreamed of starting this kind of program since he was working towards his own M.F.A. degree at the University of Nebraska. Like Randolph's undergraduate curriculum, Dop believes that close relationships between students and professors will be one of the defining characteristics of the College's new M.F.A. program.
"Something that I think will be one of the hallmarks of the program is that we will not only work with students for the two years they're in the program, but we'll continue to provide them resources and access for the rest of their writing life," he said. "This is already a hallmark of our English department, and will easily fit our new graduate program."
For more information or to enroll in Randolph's M.F.A. program, please visit http://mfa.randolphcollege.edu/.
Tags:
academic programs, creative writing, English, faculty, Gary Dop, masters degrees, MFA, poetry, writing