March 24, 2017
Science Festival highlights alumnae science careers
Three alumnae scientists, Leslie Ann Jones '93, Katie Stewart Page '08, and Caitlin Unterman '12, '14 M.A.T., returned to Randolph College Friday afternoon to discuss their experiences and share advice with current students aspiring to enter careers in the sciences.
The Women in Science Panel discussion was part of Randolph's 2017 Science Festival, which continues with events throughout the weekend. Prior to the panel discussion in Nichols Theatre, the trio met one-on-one with students and other guests at a reception and open house at the Center for Student Research.
Leslie Ann Jones '93
Jones has operated her own veterinarian office in the Richmond area for the past seven years, and has been a small animal practitioner for 13 years. She specializes in integrative medicine, which incorporates both eastern and western veterinary medicine.
After earning her international relations and business degree from R-MWC, she went on to earn a B.S. degree in marine biology from LIU-Southampton College in 1995. She then went across the pond University College in Dublin, Ireland, where she earned her bachelor of veterinary medicine degree (MVB).
Jones said the internships she completed and the personal connections she made at R-MWC were some of the most important takeaways from her college experience.
"This school offers such phenomenal access to professors and internships and so many things that lots of larger universities would not offer that you kind of take it for granted," she said. "You never know when your professors might cross paths with you again somewhere down the line. And, through the four years of growth you go through here, you get a sense of confidence I don't think you would get anywhere else."
She also advised seniors to explore their options after graduation.
"Have a little fun and try out different things," Jones said. "Before going to vet school I worked as a landscaper, then I worked at a golf course at home where I met Jay Z and P. Diddy. I loved it, and it was something to do. The point is, you'll get where you want to be, but you don't have to do it in June of 2017, I promise."
Katie Stewart Page '08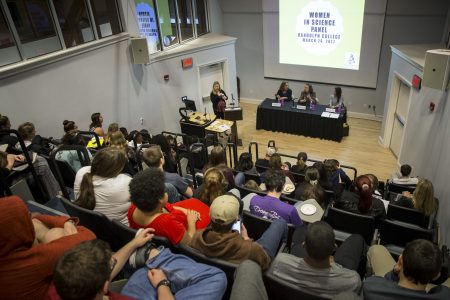 Page is a certified nurse-midwife for CMG Medical Center in Forest. She provides gynecology and obstetric care for women of all ages, following the Midwives Model of Care, and has attended more than 850 births. In 2014, her practice was awarded a "Best Practice" for its low rate of induction of labor. At Virginia Baptist Hospital, she is co-lead for a task force for the national Healthy Birth Initiative: Reducing Primary Cesarean Collaborative. In addition, she serves as co-chair for the Professional Liability section of the American College of Nurse-Midwives, the Region IV Government Affairs Committee representative to ACNM, and is chair of Continuing Education for the Virginia affiliate of ACNM.
After earning her 3-2 health services degree from Randolph, Page attended midwifery school at Vanderbilt University. She said Randolph's liberal arts curriculum was extremely helpful for her next steps in life.
"The flexibility that you have here in course selection and in diversity of study even in your own major is remarkable," Page said.
She encouraged graduating seniors not to give up on pursuing their dream jobs, but also to gain related work experience along the way.
"Take your time," Page said. "Whether you're entering your career or going on to graduate school, just get a job and that will give you experience to open up the way for whatever else you want to do."
Caitlin Unterman '12, '14 M.A.T.
Unterman is an 8th grade earth science teacher at Forest Middle School, where she created a one-of-a-kind science exploration course in a partnership with NASA scientists. She was the recipient of Lynchburg Living magazine's Teacher of the Year award in 2015 and Virginia Association of Science Teachers (VAST) RISE award in 2016.
Unterman earned both her B.A. in biology and her M.A.T. in curriculum and instruction at Randolph. She said her Randolph professors became her extended family. Since she is a highly sociable person, Unterman said one of her favorite things about being a teacher is the constant interactions she has with her students as well as the collaborations with other teachers and professionals.
"Being able to provide students with diverse learning experiences and actually have them take that and run with it and be engaged and involved when they might not have been before, that makes my job really enjoyable," Unterman said.
She added that one of the most beneficial parts of her Randolph education was the relationships she formed with her professors—many of whom she maintains regular contact with today.
"The professors were always available and extremely accessible, even at 2 a.m. if I really needed them," Unterman laughed. "They became like an extended family."
Other Highlights of the 2017 Science Festival
Prior to the Women in Science Panel, innovative juggler Greg Kennedy delighted a crowd of both Randolph and Lynchburg community members during his keynote performance Thursday evening. In addition, he spoke with Randolph students during fine arts colloquium and physics classes.
Kennedy, an engineer turned professional juggler, is a two-time international juggling champion and formerly performed with Cirque Du Soleil. During the class with students Thursday, he talked about his background and how he shaped a career that combines both his scientific and artistic talents.
"A lot of times people want to say you're a creative person or you're a logical person. Don't believe them. You are both," he told students. "You can solve problems and you can create brand new things. You have a left brain and you have a right brain, and they are meant to work together. Don't let somebody label you. Be who you are."
Kennedy said liberal arts colleges like Randolph provide the perfect curriculum for aspiring actors, performers, and other artists.
"You're learning communication skills that are helpful in working with creative directors and staging shows, or even marketing shows. Especially when you're first getting started, you can't always afford an office manager to do that," he said. "This kind of work is hard, but it's really, really rewarding. It wasn't always easy to make ends meet my first few years, but I've also been very lucky, and what I will tell you is that over time it gets easier and easier as you build up a wealth of knowledge and experience."
The 2017 Science Festival continues throughout the weekend with free events for all ages. For a complete schedule, visit www.randolphscience.org. See photos from this year's Science Festival on the Randolph College Facebook page.
Tags:
alumnae, events, outcomes, science, science festival, speakers, successful alumnae