November 2, 2016
Maier Museum of Art at Randolph College to present 25th Annual Berlind Symposium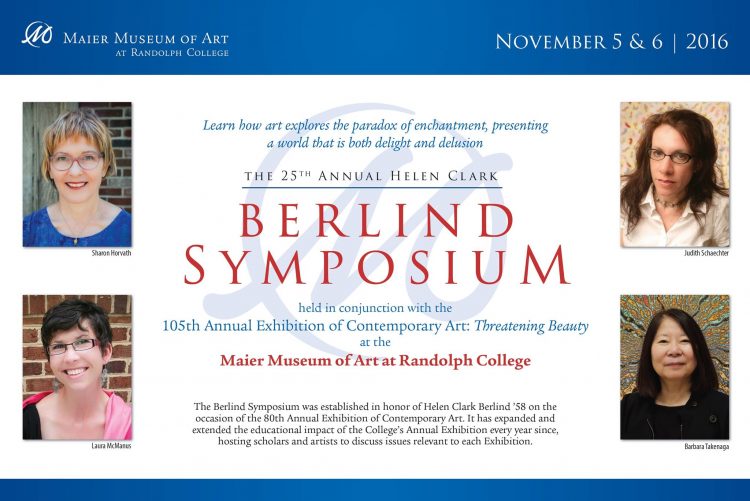 On Saturday, November 5, and Sunday, November 6, the Maier Museum of Art at Randolph College will hold its 25th Annual Helen Clark Berlind Symposium in conjunction with the 105th Annual Exhibition of Contemporary Art: Threatening Beauty.
The first Annual Exhibition was installed at the College in 1911, and it is the longest-running series of original exhibitions of contemporary art staged by any academic institution in the United States. Traditionally the Annual is a group exhibition inspired by a common theme. This year's Annual Exhibition, Threatening Beauty, features 10 artists working in a variety of media who explore the tension between the sublime and the sinister. Artists include Teresita Fernández, April Gornik, Sharon Horvath, Matthew Klein, Susie MacMurray, David Maisel, Judith Schaechter, Kiki Smith, Barbara Takenaga, and Kako Ueda.
On the occasion of the Maier Museum of Art's 80th Annual Exhibition of Contemporary Art, the Berlind Symposium was established by friends and family of Helen Clark Berlind '58 to honor her memory. The event has expanded the educational impact of the Annual Exhibition every year since, hosting scholars and artists to discuss issues relevant to each exhibition. This year's Symposium will feature three of the artists represented in Threatening Beauty: Sharon Horvath, Judith Schaechter, and Barbara Takenaga.
Sharon Horvath's paintings offer a subtle sense of foreboding, combining a suggestion of the unexplored sublime with the fear of the unknown. Her works make the observer wonder about their own orientation and whether they are looking up or down and whether the subject is something vast or microscopic. Horvath was born in Cleveland, Ohio in 1958. She received her Bachelor of Fine Arts from Cooper Union, New York and her Master of Fine Arts from Tyler School of Art in Philadelphia. She is currently an associate professor of art at Purchase College, SUNY. Her work has been included in numerous group exhibitions, including the 2002 Invitational Exhibition of Painting and Sculpture at the American Academy of Arts and Letters in New York.
Judith Schaechter's stained glass figures exude a longing for transcendence. She began as a painter but quickly developed an irreversible bond with the process of stained glass, in part because it is so labor-intensive and task-oriented. Schaechter was born in 1961 and grew up in Newton, Massachusetts. She received her Bachelor of Fine Arts from Rhode Island School of Design in 1983 and went on to teach at the Pilchuk Glass School in Seattle, the Toyama Institute of Glass in Japan, The Pennsylvania Academy, the New York Academy of Art, and RISD. Schaechter exhibited her work at the 2011 Venice Biennale Collateral exhibition, "Glasstress." She also had a mid-career retrospective at the Whitney Museum's 2002 Biennial Exhibition in New York.
Barbara Takanaga's way of painting is a meditative practice that comes from repetition. Cosmic, shimmery, and sublime in a way that is at once ecstatic and slightly terrifying, Takanaga's "dots" combine, swirl, and coax celestial landscapes that play with scale and perspective to a dizzying effect. She is inspired both by intricate mandalas and the vastness of the night sky in Nebraska, where she was born and raised. She currently lives in New York and Williamstown, Massachusetts, and is the Mary A. and William Wirt Warren Professor of Art at Williams College, a position she has held since 1985. Her work has been widely exhibited at institutions including the Massachusetts Museum of Contemporary Art; the Museum of Contemporary Art in Denver, Colorado; and the National Academy Museum in New York.
Day one of the Maier's Berlind Symposium will begin at 10 a.m. on Saturday with an artist talk by Sharon Horvath, followed at 11 a.m. by an artist talk by Barbara Takenaga. After a brief lunch break, the symposium will resume at 1:30 p.m. for a panel discussion with all three visiting artists moderated by the Maier's curator of education, Laura McManus.  Following the panel discussion will be the final artist talk at 3:15 p.m. by Judith Schaechter.
On day two of the Symposium, Sunday, at 1 p.m., the Maier will hold a retrospective on the 25 years of the Helen Clark Berlind Symposium reflecting on how the program has enriched the Maier and the liberal arts curriculum of Randolph College. Following the retrospective will be a brief tour of the exhibition Threatening Beauty, led by the Maier's curator of education, Laura McManus. Both days of the Symposium will conclude with a reception.
Also on view at the Maier this fall, in the gallery adjacent to Threatening Beauty, is a solo exhibition by world-renowned artist Hans Haacke, entitled Dreams That Money Can Buy (Update). Both exhibitions will remain on view through December 16.
During the academic year, the Maier is open Tuesday-Sunday from 1 to 5 p.m. Admission to the Maier and its programs are free, unless otherwise noted. Visit www.maiermuseum.org for more information about programs and events at the Maier.
Tags:
art, events, exhibitions, Heather Clark Berlind Symposium, Maier Museum of Art at Randolph College