October 27, 2016
2017 summer study seminars will take students to Cuba, Italy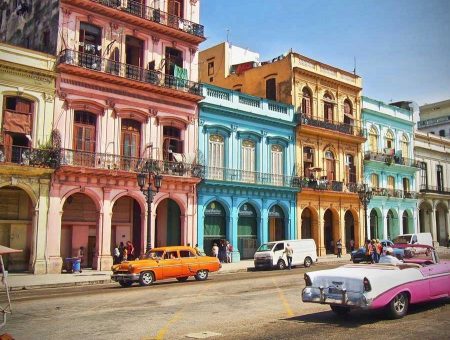 During the summer of 2017, Randolph students will have the choice of immersing themselves in the daily life and studying the economic structure of a socialist country or visiting two of the most historically significant cities in the world for art and architecture.
Economics professor Andria Smythe will lead Randolph's first trip to Cuba for the Economic Well-Being in Cuba seminar May 15-23. Though the College's economics and business department is sponsoring the summer study seminar, students of all majors are invited to travel to Havana as part of the group and learn more about the economic well-being of the city and the nation. Specific items on the itinerary include touring free enterprise businesses like farms and taxi companies, meeting students at the University of Havana, and visiting historical sites like Plaza de Revolucion and the Bay of Pigs.
There will also be time for shopping in one of the city's most famous market districts.
"By immersing themselves in the study of a society and a set of economic behavior different from what they experience here in the United States, students will naturally make comparisons to their lives as economic agents here in the United States," Smythe said. "And that's one goal I have for my students: that they think critically about the economic system under which they study, work, and live. I think one of the biggest takeaways for students will be how economic policies affect individual well-being in ways they don't even think about."
In addition to being a new opportunity that was unavailable to students in previous generations, Smythe said participants in the 2017 seminar also have the opportunity to further improve diplomatic relations first-hand through their interactions with Cuban citizens.
"These are the types of educational experiences that have the potential to transform a student's college career," she said. "I guarantee that a trip to Cuba will be a talking point at many future job interviews. It will also be cool for students to tell their children and grandchildren that they were among the first Americans to visit Cuba after relations were normalized."
Another seminar offered in 2017 will focus on Renaissance Art. From May 18-31, Randolph students will explore the exquisite architectural sites and finest art museums in Florence and Rome, Italy. Led by art history professor Andrea Campbell, students will also take day trips to nearby cities like Siena and Ostia.
The application deadline for both summer study seminars is November 10. For more information or to apply, please visit http://www.randolphcollege.edu/studyabroad/summerseminars/.
Tags:
Andrea Campbell, Andria Smythe, art, art history, business, economics, study abroad, study seminar