March 9, 2016
Randolph M.A.T. graduate voted Lynchburg Living's Top Teacher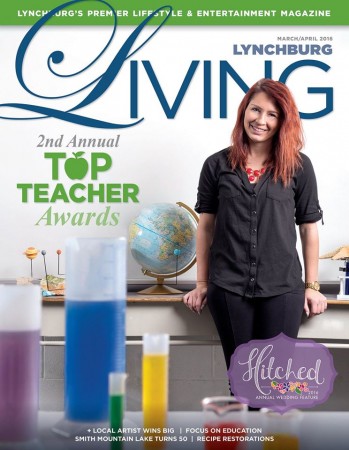 Caitlin Unterman '12, '13 M.A.T. received the most reader votes in Lynchburg Living's second annual Top Teacher awards, and is featured on the cover of the March/April 2016 issue.
In their nomination letters, voters lauded Unterman as an "innovative and exciting educator" and praised her for developing from scratch a Space Exploration course that connects her students with NASA scientists. In addition to being voted the greater Lynchburg area's top teacher, the 8th grade science teacher at Forest Middle School also received U.S. Cellular's "Calling All Teachers" award.
Read Lynchburg Living's interview with Unterman at http://www.lynchburgliving.com/2015-2016-lynchburg-living-top-teacher-awards/. For more information about Randolph College's Master of Arts in Teaching (M.A.T.) and Master of Education (M.Ed.) programs, please visit http://www.randolphcollege.edu/teach/.
Tags:
alumni accomplishments, biology, Caitlin Unterman, education, Lynchburg Living, master of arts in teaching, masters degrees, outcomes, Randolph College alumni, science, teacher