February 17, 2016
Endstation Theatre Co. to present The Whole Bunch at Randolph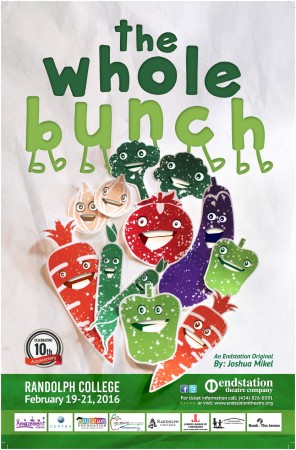 Randolph College announced its formal partnership with Endstation Theatre Company in 2015. This Friday, that partnership will bear fruit in one of many ways as Endstation brings The Whole Bunch to campus.
The Whole Bunch by Joshua Mikel, in collaboration with Rachel Gagen of Live Healthy Lynchburg, is an Endstation community-centered new work with the goal of educating Lynchburg citizens—especially elementary school children—about nutrition. The play is the first Endstation production to be performed at Randolph since the partnership was announced last June.
Walter Kmiec, Jr., director of the play and Endstation's artistic director, said The Whole Bunch uses humor to show how healthy or unhealthy eating habits can directly affect quality of life. The audience-engaging play teaches children and adults alike where to find fresh produce and other healthy foods in the Lynchburg area, which is designated as a food desert.
"We're learning more and more every day that proper nutrition is essential to a more fulfilling and productive lifestyle; at the same time, we're learning more and more how hard it is to rewire our brains from bad food habits that we form very early in life," Kmiec said. "If we can encourage young children to form good habits early on then we are setting them up for success later on."
The play's six actors alternate roles as different talking fruits and vegetables, including Betty Broccoli and Gary Garlic. One of actor Alex Miller's characters is Sarsaparilla Sam, a cowboy who serves as a narrator for the play. Along with the opening shows at Randolph, he is most excited about taking the play to local elementary schools later this month.
"We're going to be reaching hundreds of kids with live, locally produced art, many of whom would probably never have darkened the door of a theatre otherwise," Miller said.
Though The Whole Bunch has been prepared primarily for younger audiences, Kmiec believes Randolph students will also get their fill of entertainment.
"The actors are having a blast working on this show, and I think that that translates to fun performances," Kmiec said. "We've got a great group, and I'm excited to share our work with the Randolph community and the Lynchburg community at large."
In addition to bringing productions like The Whole Bunch to Randolph, the partnership between the College and Endstation Theatre Company allows Endstation to use the campus as the home base for its summer program. In addition, it provides students apprenticeship opportunities, workshops, and access to Endstation's specialized designers, technicians, and artists.
This summer, the slate of Endstation performances continues at Randolph with Much Ado About Nothing, to be performed in Michels Plaza, and Hank Williams: Lost Highway in Thoresen Theatre.
The Whole Bunch will be performed in Thoresen Theatre Feb. 19 and 20 at 7 p.m. and Feb. 20 and 21 at 2 p.m. Ticket prices are $5 for children and $10 for adults. To purchase tickets, call the Endstation box office at 434-826-0391 or visit www.endstationtheatre.org.
Tags:
community, Endstation Theatre Company, events, partnership, productions, theatre