February 9, 2016
Annual Love at the Maier program slated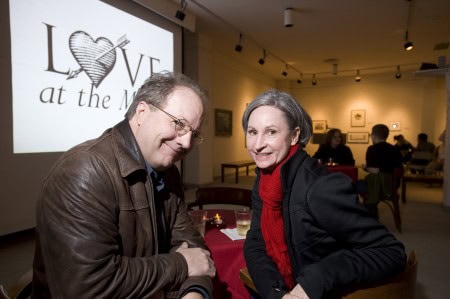 This Valentine's Day weekend, the Maier Museum of Art at Randolph College will host the 13th annual Love at the Maier program.
Love at the Maier is a two-part celebration of art and artists centered on the mood and aesthetics of Valentine's Day. This year's Love at the Maier is held in conjunction with the exhibition, Venetian Visions: Selections from the National Gallery, London, on view through March 31. Venetian Visions is the inaugural exhibition of the partnership between the National Gallery, London and Randolph College.
The first Love at the Maier event will be Friday, Feb. 12, at 6 p.m. Author Andrea di Robilant is traveling from Rome, Italy to discuss his book, A Venetian Affair, which is a true story based on 18th century love letters found in the attic of his family's Venetian palazzo. Di Robilant and his father cracked the lovers' hieroglyphic code and discovered a correspondence revealing an intense romance, evocative of the most enduring and classic love stories. In fine oral history tradition, di Robilant will recount a tale of mystery, passion and forbidden love.
Enhancing the intrigue is di Robilant's connection to Lynchburg, Randolph College, and the Maier. His mother, Betty Stokes di Robilant, was born locally and attended Randolph-Macon Woman's College where she majored in art history. She later donated to the College a painting of R-MWC's Main Hall created by the locally renowned artist, Georgia Morgan, to whom she was related. Morgan was a student and protégé of Louise Jordan Smith, one of the original five resident professors when R-MWC opened its doors to students 125 years ago.
Admission is $5 for Maier members and $10 for all others. A pre-lecture reception will begin at 5:30 p.m. with hors d'oeuvres and a cash bar.
Part two of Love at the Maier will be the Venetian Valentines Family Program on Saturday, Feb. 13, from 2 to 4 p.m. Visitors of all ages are invited to drop in to create valentines and masks inspired by the romance of Venice. Admission is $4 for Maier members and $5 for all others.
The Maier is open Tuesday-Sunday from 1 to 5 p.m. and admission is free. For more information, visit www.maiermuseum.org, call 434-947-8136, or email museum@randolphcollege.edu.
Tags:
art, events, family programs, lectures, Love at the Maier, Maier, Maier Museum of Art at Randolph College