September 1, 2015
Saturday adventures help first-year students form friendships
As part of Randolph College's first-year orientation, members of the Class of 2019 spent their first Saturday exploring the wide variety of recreational activities Virginia has to offer, including tubing down the James River, hiking Sharp Top Mountain, engaging in paintball warfare in Glasgow, and studying acclaimed artwork at the Virginia Fine Arts Museum in Richmond.
The field trips are a new component of Randolph's first-year orientation program and provide additional opportunities for the new students to get acclimated to one another and their new community. The class was split into four groups, which also included Davenport Leaders and College staff chaperones.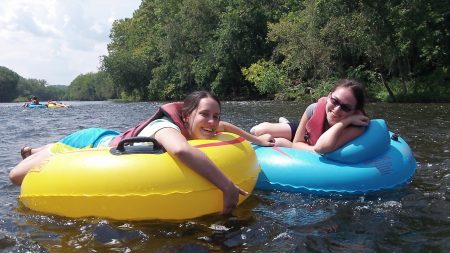 "We wanted this to be a time when students could meet other individuals in their class, bond over these common experiences, and have a good time," said Assistant Dean of Students Michael Maningas.
"New students want to feel like they're part of the College community right off the bat. These trips allow them to do that with a much smaller group of folks. Instead of coming in with a class of 200, now you're in a group of 35 and you're shooting paint balls at each other. That's a much different kind of conversation starter."
Orientation activities helped Alyssa Horton '19 meet new friends like Sarah Williams '19 and Jenn Rudacille '19. The students met during the first days of orientation and bonded more during their trip to the Virginia Fine Arts Museum.
"We stayed together at the museum pretty much the entire time," said Horton. "Plus, I had never been, so it was great."
After completing orientation and their first morning of classes, the three first-year students agreed their overall first impression of Randolph was positive.
"It's been awesome so far," said Rudacille. "There's always somebody to talk to, but if you don't want to talk to anybody you can just hang out in your room. You can also go to the Student Center and just hang out."
Tags:
Class of 2019, First-year, Orientation