September 14, 2015
Randolph student's experience with LEAP Program featured in White House newsletter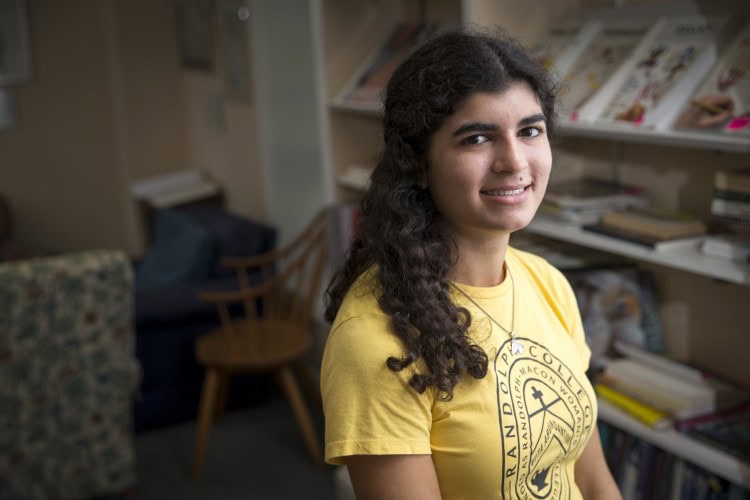 Each year, Randolph College's Local Educational Access Program (LEAP) helps make a high quality, liberal arts education affordable for qualified students in the Central Virginia region. Marie Abowd '19 was so thankful to receive the financial aid this year that she shared her story with President Barack Obama, and this week it is being shared around the nation.
Abowd is the youngest of four children and all have attended college. Her single mother has worked multiple jobs and recently moved the family from California to Forest, Virginia for a chance at a more affordable cost of living.
In January, Abowd had been accepted into four out-of-state schools, but ever-increasing tuition costs made her hopes of achieving a college education dwindle. After watching President Obama's State of the Union Address, Abowd decided to share her family's financial struggles with him in a personal letter.
"When I wrote to him I was just letting him know about my financial situation and telling him that things aren't really being done about it," she said. "College is so expensive, and I told him I want to be an equine dentist and want to do all these things with my life, but I couldn't afford it."
Abowd sent similar versions of that letter to Virginia Governor Terry McAuliffe, Senator Mark Warner, Congressman Bob Goodlatte, and many other Virginia legislators. To her surprise, all of them responded, including the White House, with information and advice on FAFSA and other forms of financial aid.
In the meantime, Abowd heard from one of her high school teachers about Randolph's LEAP financial assistance, which guarantees eligible students tuition of no more than $10,000 after scholarships and grants. After enrolling in LEAP and as a student at Randolph, she wrote another letter to the President and to the other representatives documenting her success.
The day before she moved in for fall semester at Randolph, she received a phone call from one of President Obama's consultants asking permission to share her story in an upcoming White House newsletter.
"I was really shocked," said Abowd. "I sent the letter and hoped that somebody would listen, but I wasn't expecting that. It's kind of nice because it means they care. I felt like my voice was actually being heard.
"I've always wanted to make a difference in the world and help other people, so this is really neat," she added. "I feel like my hard work has been recognized in a way. It kind of shows that you can and will overcome your struggles."
Thanks to the financial aid LEAP has provided, Abowd has achieved her goal of attending college and is now on the way to achieving her career goal of becoming an equine dentist. Though she has only been on campus for three weeks, her ambition has already impressed her professors.
"Her letter truly was inspiring and I'm glad she shared her story," said equine studies instructor Erin Cardea. "Becoming a specialized equine veterinarian will take an incredible amount of study, drive, and work ethic. I've only known Marie for a short time, but she has already proven to be an apt student who is thirsty for knowledge.
"I admire her for taking the time to seek out possibilities and pathways to lead her to her dreams," added Cardea. "To have someone like Marie involved in the equine program here at Randolph is wonderful."
Biology professor Amanda Rumore, who is Randolph's equine studies coordinator, agreed.
"The Equine Studies Program at Randolph College aims to serve students just like Marie," said Rumore. "Our interdisciplinary curriculum and required credit-bearing internship helps students better understand all aspects of the equine industry. Marie's interest in equine dentistry is well suited for a program like ours."
For more information about LEAP, please visit http://www.randolphcollege.edu/financialaid/leap/
See Abowd's testimonial as it was published in the White House newsletter below:
"I was a senior at Jefferson Forest High School when I sent my first letter to President Obama.
Jefferson Forest is a small high school in Forest, Virginia — a small town that no one really knows about. My mother is divorced and single. I am the youngest of four; my three older siblings were all in college. My mother has sacrificed everything to put us through college. Working part time jobs, late nights, even moving from California to Virginia for a better job where the standard of living seemed much more affordable.
You see, it has been my dream since I could remember to become an equine veterinarian. My mother wants more than anything to see my dream become a reality, because she wants me to succeed without the struggles that she's experienced; to have a better place in the world than she's ever had.
I realize that wanting to specialize in equine dentistry (yes, dentistry — many people laugh when I say this but I just smile) means I will probably be in college for ten years. I have always wondered, WHY? If critics say America needs more jobs, then why is getting a college education so expensive that starting down many career paths seems impossible?
My mother always tells me "the sky is not the limit, for there is the moon and there are the stars beyond it." So I kept up my grades and relentlessly applied to as many scholarships as I could. The reason I felt compelled to write to President Obama was to say: I want to be one less child, one less financial burden, my mother needs to worry about affording a college education for.
One morning I was talking to a chemistry teacher about my frustrations — the National Decision Deadline was fast approaching, and I had not committed to any of my four choices because I could not afford tuition. She mentioned that Randolph College in Lynchburg, Virginia was offering a grant called LEAP (Local Educational Access Program) for from the surrounding area (Lynchburg City and the counties of Amherst, Appomattox, Bedford, Campbell, and Nelson)  — where tuition is guaranteed to be no more than $10,000, and that is before financial aid through the FAFSA, which I completed back in January. (By the way, you can learn how much aid you're eligible for right now.)
Immediately, I knew this was the answer to my worries. I called the Office of Admissions to ask if they were still accepting applications and the admissions counselor personally worked with me to submit my application as fast as possible. I hand-delivered my transcripts and letters of recommendation the next day to Randolph College. I then sat and watched as my application was reviewed. In less than two minutes I was accepted into Randolph College. Instantly, I felt a giant weight lift off my shoulders. That Saturday, my mother and I attended the open house to tour the campus and assess my financial aid package. We finalized my slot as a freshman in the fall by paying the deposit. Out of nowhere, the President of Randolph College, Mr. Bradley Bateman, appeared to shake my hand, saying he "…wanted to be the first to shake a new Wildcat's hand in congratulations."
I am so relieved that I know where I belong now. I plan to major in biology as part of the pre-veterinary medicine track and possibly double minor in equine studies and chemistry. Classes started August 31st and I already have a busy schedule. This week I attended my calculus, French, movie science, chemistry lecture and lab, and equine studies classes. I will always be searching and applying for scholarships because I still have to pay for next semester and some of my outside scholarships only cover first semester costs. I also have to worry about paying for the next three years of my education myself. Once I graduate, I will have to start worrying about paying off my unsubsidized and subsidized loans, as well.
This is my advice for students who are looking into college, but think they can't afford it: Don't just fill out the FAFSA — research local colleges to see if they have any grant programs that can help you cover costs. Call the college to explain your financial situation. Search for scholarships. High schools' guidance offices should have information on many scholarships and there are a plethora of websites where it pools together scholarships that match your criteria. The best way to receive scholarships is to keep up with your academics and be involved in the community; it will benefit you as an individual and as a scholar in the long run.
As my mother always says: "Make good decisions."
Sincerely,
Marie
Marie Abowd
Forest, Virginia"
Tags:
equine studies, financial aid, LEAP Program, Marie Abowd '19, White House