June 23, 2015
Randolph College Nursery School to offer new class for 5-year-olds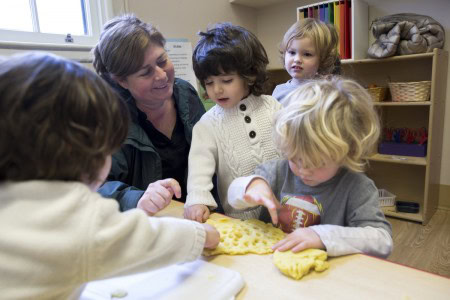 Randolph College will offer a new class for 5-year-olds at its preschool beginning in August.
The Randolph College Nursery School (RCNS) is adding the class to provide another option for parents who want their children to have extra preparation before kindergarten. RCNS already offers classes for children beginning at 3 years of age.
The 5-year-old class will consist of eight students led by one teacher. Preschool hours are 8:45-1:30; however, early and late childcare is available.
Director Holly Layne said the new class is intended for children who aren't quite ready for kindergarten. Like the other RCNS classes, its curriculum will be child- and play-focused and based on developmentally appropriate practices as recommended by the National Association for the Education of Young Children.
"It's going to be active learning," Layne said. "We'll learn reading and math through meaningful experiences rather than worksheets."
Many of those learning experiences will take advantage of Randolph's facilities and campus, including its outdoor spaces such as the Organic Garden. The RCNS curriculum emphasizes building social and problem-solving skills, while also helping children learn independently and think critically.
"We want these children to be resourceful, creative, and to be able to find out the answers to their questions on their own," Layne said.
The RCNS was one of the first preschools in the state to receive a 4-star rating from the Virginia Star Quality Education Initiative and is often used as a training model for national, local, and regional groups.
The new 5-year-old class has limited space and will fill quickly. To register, please contact Layne at hlayne@randolphcollege.edu or 434-947-8787.
Tags:
nursery school, Randolph College Nursery School, RCNS