April 15, 2015
WildCat Theatre presents the comedy Vanya and Sonia and Masha and Spike
Randolph College's WildCat Theatre will present Vanya and Sonia and Masha and Spike (VSMS), written by master of comedy Christopher Durang, Thursday through Sunday at 7:30 p.m.
The production, directed by Melora Kordos, a local professional actor and director, will be held in Thoresen Theatre. Admission is $10 general, $8 senior/faculty and staff, and $5 for Randolph students with IDs. Reserve tickets online.
VSMS is the winner of the 2013 Tony Award for Best Play, the New York theatre industry's equivalent to the Academy Awards for motion pictures. Taking characters and themes from Chekhov, Durang brilliantly tosses and mixes them together to make a theatrical salad full of comedic flavors.  Packed with all the satirical humor that only Durang can deliver, VSMS tells the midlife crisis story of three siblings, Vanya, Sonia, and Masha. Masha, a famous actress who has been supporting Vanya and Sonia, suddenly returns home and brings with her a suitcase full of dramas, including her boy toy preening Spike.
Ken Parks, a Randolph theatre professor, believes VSMS adds to the variety of shows both in this and recent seasons. "This is an example of farce comedy, and we expect students to learn a great deal about comic timing both by acting in or viewing the play, in addition to the multitude of things to be learned by participating in any play," he said. "Christopher Durang is an important voice in contemporary theatre," added Brooke Edwards, another Randolph theatre professor.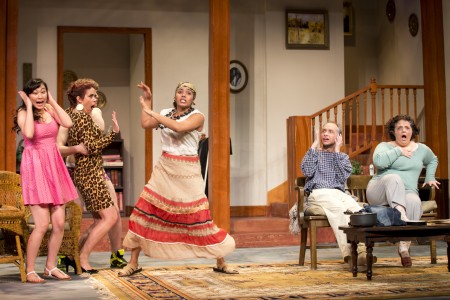 Kordos has worked for theatre departments at Randolph College and Lynchburg College, and served as artistic director for Studio Roanoke. She 'believes the tight-knit relationship she encourages between her cast helps them learn and grow into their characters. "She likes to form relationships with her actors in order to understand them better," said Shannon Baskin '18, who plays Masha. "That makes it much easier to work with her and reach a mutual place of understanding and respect."
The main cast includes Jacob Warner '18 (Vanya), Daisy Howard '17 (Sonia), Shannon Baskin '18 (Masha), and Stuart Pratuch '18 (Spike). Because absurdist theatre is a new experience to the cast, each actor had to reach beyond their comfort zone to bring out the vibrant energy in the characters. "The most challenging part of my character was really letting go of my inhibitions so that words did seemingly ramble out," said Howard, who acknowledged that Sonia is so far from something she has ever played. "Being grounded in all her tantrum-ness and not laughing at how awkward or strange I feel at given moments has definitely been a challenge."
"This cast is a very tight knit group who supports each other and does their best to help every member," said Baskin. "The most rewarding thing about being in this play is the fun we have," Warner added. "I love my entire cast and I have learned so much from all of them."
The cast looks forward to bringing laughter to the audience. "I love seeing all our hard working in action," said Warner. "When you get to a certain point in rehearsal, you really need an audience to feed off of emotionally."
Howard agreed. "My only expectation for the audience is to have fun," she said. "If the audience is having fun, we'll be having fun too."
Tags:
Ken Parks, Melora Kordos, theatre