March 17, 2015
WildCats spend spring break with wild cats
While most college students seek out sun and fun on the beach, a group of adventurous Randolph students spent their spring break hacking through the brush under the watchful eyes of 700 pound tigers.
Eleven students volunteered with Carolina Tiger Rescue, a non-profit rescue sanctuary for wildcats in Pittsboro, NC.   The facility is home to tigers, lions, cougars, leopards, binturongs, caracals, kinkajous, ocelots, servals and bobcats.
Volunteers spent the week  building tiger houses, constructing a carport for vehicles, clearing trails with chainsaws and machetes, hauling lumber, leveling a floor in the compound's main building, – even lifting a pickup truck onto blocks by hand.
"It was like Habitat for Humanity… on steroids… for big cats," said Amanda Denny, director of student activities.  "The students worked hard and learned some serious new skills – construction and power tools.  The staff was very patient and made sure that we were doing things safely and properly."
The week finished off with a tour of the compound and a chance to meet the big cats.
The trip, sponsored by the Office of Leadership and Engagement, is one of many opportunities the College provides for students to volunteer and give back to the community.
"Volunteering is a chance to improve leadership, critical thinking, problem solving, and networking skills, while exploring new perspectives," said Denny.  "Students on this particular trip were challenged to reflect upon the complexity and interconnectedness of social and environmental issues.
Participating students were Brianne Conrad, Marissa McClinton, Dung Nguyen, Hoa Nguyen, Alison Henry, Eva Heitbrink, Taylor Lawrimore, Helen Macnamara, Lauren Castillo, Faith Powell, and Olivia Wray.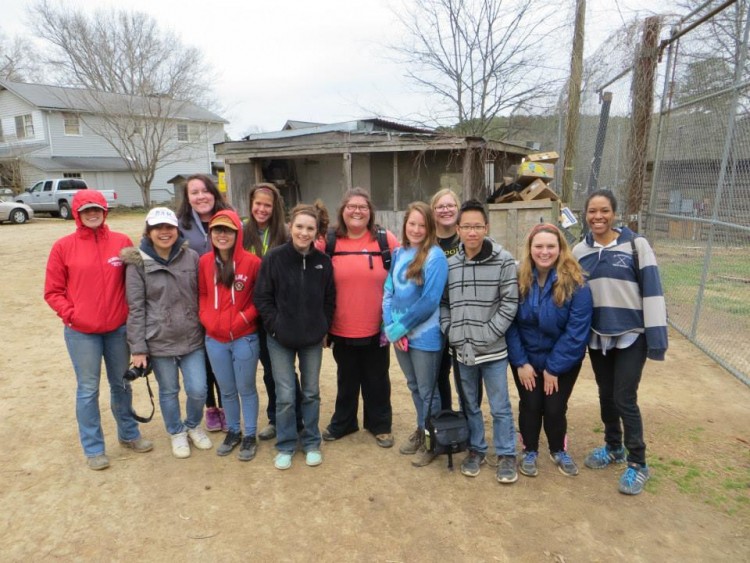 Check out more photos on Facebook.
Tags:
biology, environmental studies, leadership, liberal arts, student activities, volunteer