February 16, 2015
WildCat Theatre presents No Exit
Olivia Wray '16 walked into a room in Hell wearing a blue dress and a fur shawl.
Rehearsing a scene for the WildCat Theatre production of No Exit, she looked for a mirror. She was disappointed to find none. But her vain eyes met with those of Marianne Virnelson '17. As if she saw her own beauty reflected in those eyes, she smiled and spoke.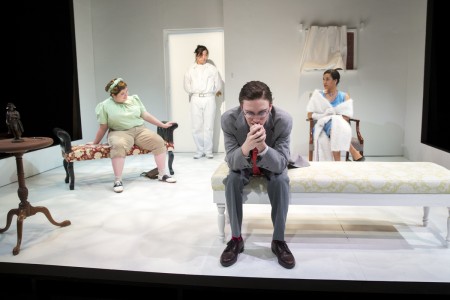 "You've got it!" said director J.D. Glickman. Wray had just mastered the entrance after several less successful tries. Glickman asked Wray to think about the cause of her success.
"I guess I stopped worrying about what I was saying, and just experienced what I was saying," said Wray.
The production of No Exit is challenging giving actors and directors the chance to dig deeper into the characters' personalities. Glickman, a professional actor and director with his own theatre school in Stockholm, Seden, is the perfect guest director for this production, said Brooke Edwards, Assistant Professor of directing and performance.
"A small play like this requires a different type of directing, which involves a lot of one-on-one coaching than necessarily directing; and Jeffrey is a great coach," she said.
No Exit tells the story of three damned souls who are locked in the same room in Hell. The play escalates as the characters strip away each other's hypocrisy and reveal the sins they committed in their past life.
The French existentialist philosopher Jean Paul-Sartre penned No Exit in 1944. The title implies that the characters are imprisoned for eternity by living their lives through the other's consciousness with no way out.
With only four characters, No Exit is a small play; yet, such a small play requires a huge effort to really get to its core. "With our diverse body of actors, I think it's time we take on something more experimental and expose the students to a different type of acting," Edwards said.
The cast includes Wray, Virnelson, Bentley Kennedy-Stone '16, and Quan "Samuel" Sun '17. "They are going to approach the characters with their own unique interpretations, which makes it even more exciting," said Edwards.
Glickman considered directing No Exit a challenging-yet-thrilling experience. The characterization is demanding and the play's beats change constantly, so he has tried to help the actors understand the characters and play them truthfully. "I didn't want to come here to teach four actors in a play how to act, even though that's what I do in Sweden," shared Glickman. "I am here to work with the actors to get to the core center of what a character needs and have them play that consistently."
Preparing for the show has required the student actors to live with the characters. Glickman's direction helps, said Wray. "He encourages us to find the character on our own instead of him just giving us actions to do," she said. "We needed to know everything about our character, from what they eat for lunch to their favorite color."
The process has helped Wray find empathy for her character, Estelle. "I have definitely grown with her and grown into her character. I've grown to love her, even though she's definitely not a favorable character," she said. "I understand her, finally, and now I can have fun with my discoveries."
No Exit will play from Feb. 20 to Feb. 22 and Feb. 27 and 28 in the Lab Theatre, room 203 in the Leggett Building. All performances are at 7:30 p.m. except the Feb. 22 performance, which begins at 2 p.m.  Admission is $10 general, $8 for people ages 60 and up, and $5 students.