February 13, 2015
Gustavo Romero piano concert set for Feb. 20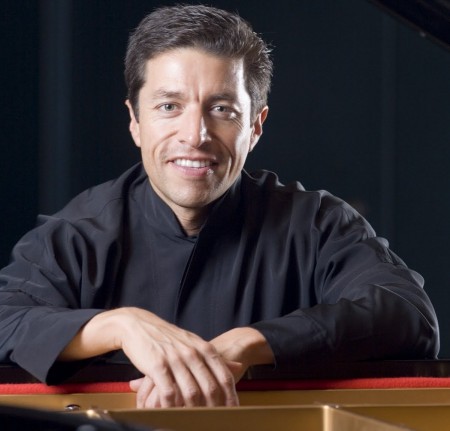 World-renowned concert pianist Gustavo Romero is no stranger to Carnegie Hall,the Berlin Philharmonie, or The Great Tchaikovsky Hall in Moscow. This month, his talent will enliven and invigorate Randolph College's Wimberly Recital Hall.
Forte Chamber Music, in collaboration with the College's music department, is sponsoring "A Winter Festival in Three Parts." The concert will begin at 7:30 p.m. Friday, Feb. 20. General admission is $20, but Randolph students, faculty, and staff may attend for free.
Romero, dubbed "pianist of genius" by The Washington Post, has a stellar reputation for his technical finesse and interpretive dimension of his playing. Dedicated to the in-depth exploration of individual composers, Romero invested his focus in preparing a series of concerts featuring the music of one or two composers each year, including Chopin, Bach, Schumann, Schubert, and many more. He has performed as piano soloist with the New York Philharmonic, English Chamber Orchestra, New Japan Philharmonic, and Shanghai Orchestra, to name just a few.
"We have had Gustavo Romero perform here several times before. He is a great favorite and a great musician," said Martha Goodman, a longtime member of Forte Chamber Music. "He'd like to come here and we'd love to have him.
"In fact, all the past concerts that we have at Randolph College have been successful, and the music department has been very kind to sponsor these concerts with us," Goodman continued. "The piano at the Wimberley Recital Hall is one of the best in town and we love coming there to play that piano. Moreover, at concerts like this, students are exposed to a variety of musicians playing canonical works and they are going to enjoy the beautiful music."
Tags:
Music