Sustainability at Randolph
Strong Environmental Studies Curriculum? Check.
Environmental Club? Check.
Organic Garden? Check.
Outdoor Opportunities? Check.
Bike Share? Check.
Public Transport? Check.
LEED, STARS, EPEAT? Check, check, check.
Recycling? Check.
100% Green Electricity? Check.
Internships? Check.
Speakers & Events? Check & check.
Sustainability Council? Check.
Strong Environmental Resume? Check.
Curriculum
The Environmental Studies Program has taken a liberal arts approach to the Environmental Studies and Science majors, focusing not only on the natural and physical sciences, but also the environmental aspects of policy, economics, philosophy, literature, and psychology to name a few. By taking this approach, many of the departments at Randolph College have added environmental courses, helping thread environmental awareness throughout the curriculum.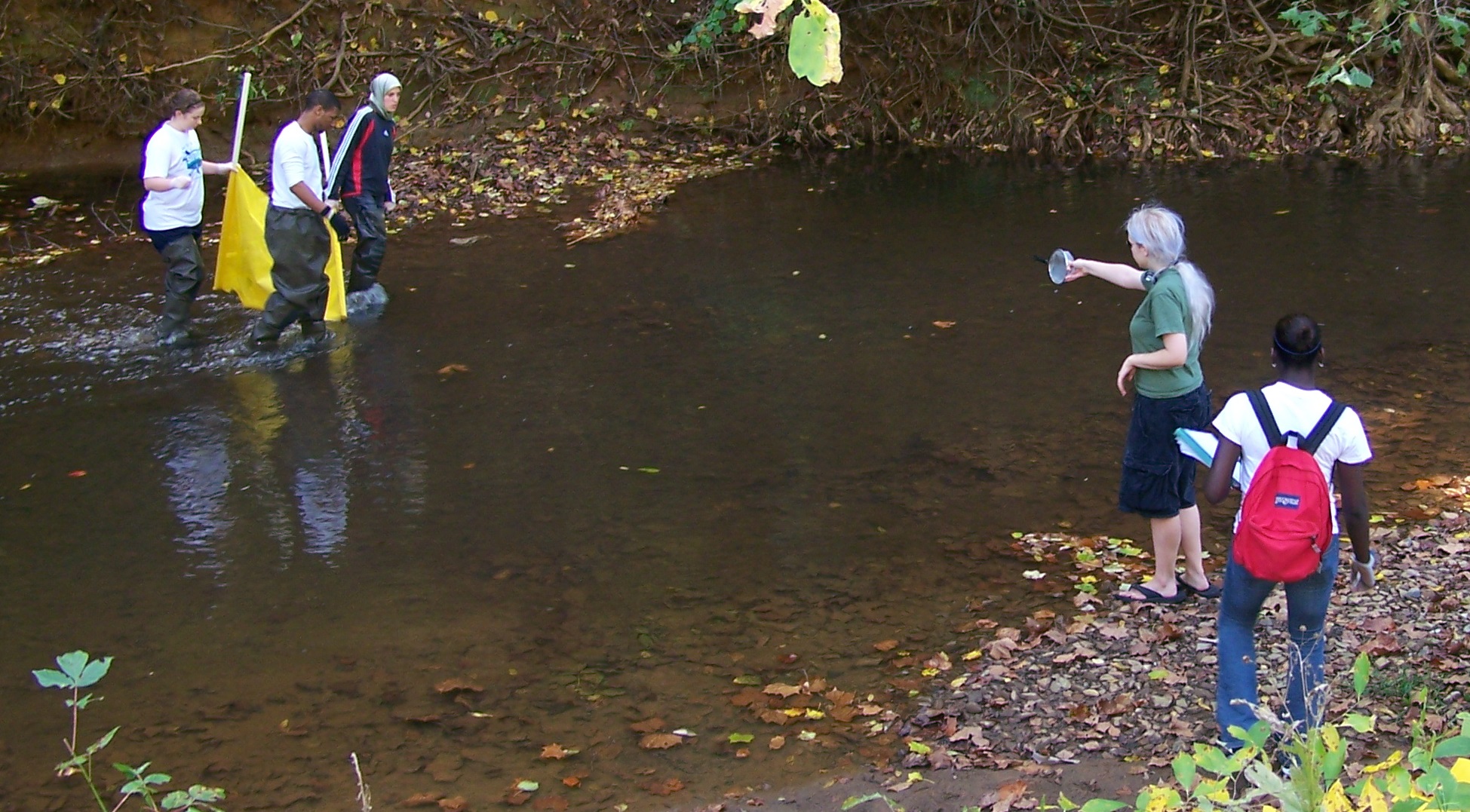 Students monitoring of Blackwater Creek
Co-Curricular Opportunities
Environmental Club
The College's Environmental Club is the epicenter of almost every sustainability-related, student-led project on campus. Student-members who have ideas that benefit the majority of the College's student population are encouraged to write proposals that get reviewed by Student Government. Past projects have included seed funding for the Organic Garden, Earth Week activities, bike share components, student-made laundry detergent, free passes for the indoor climbing in downtown Lynchburg, and more.
Organic Garden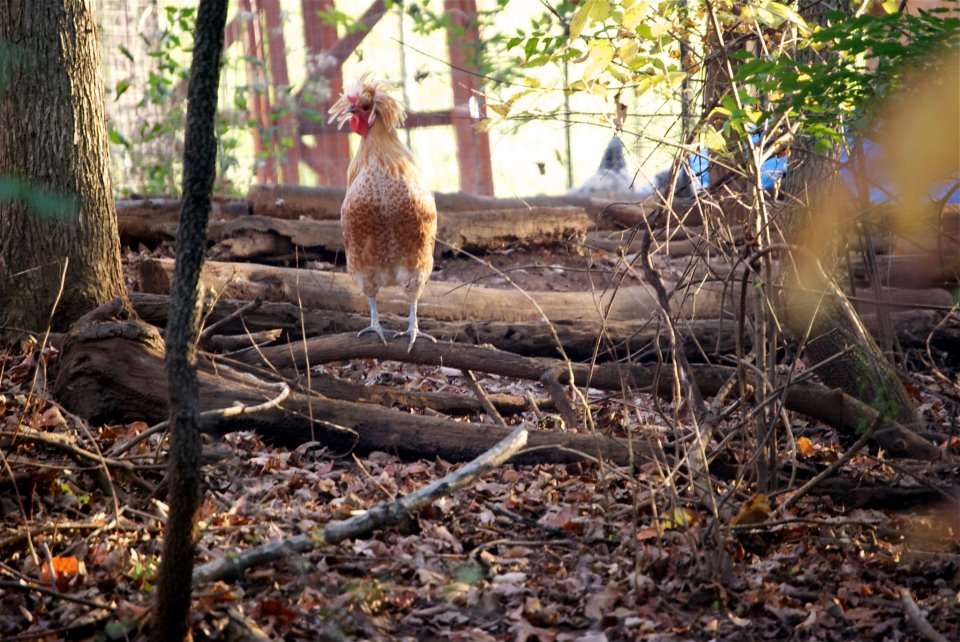 Our nationally recognized Organic Garden and Orchard has more to offer than the average college garden. Aside from raised plots available to students year-round to grow vegetables and learn many productive gardening techniques, we have an orchard with some of the rarest apple trees in America grafted by students under the supervision of Tom Burford, one of the world's foremost apple experts; a National Wildlife Federation (NWF) funded Edible Perennial Nursery along with a food forest as its living library; several breeds of chickens helping us fulfill Permaculture principles; several beehives; mushroom logs; a community section for faculty, staff, and members of the Lynchburg community; and an extensive library of books covering all topics of sustainable agriculture.
Outdoor/Adventure Activities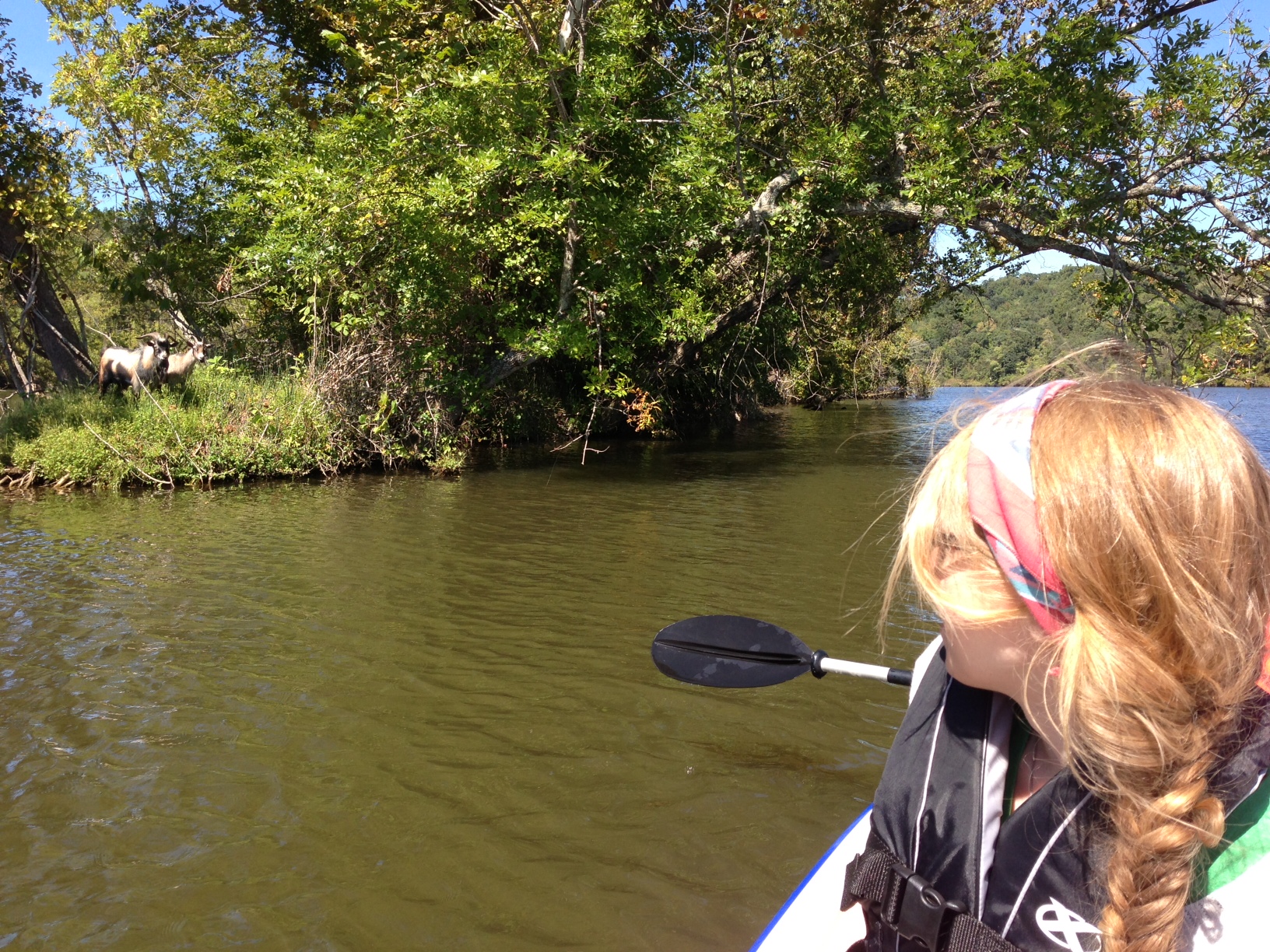 If you like the outdoors, you've got to pay us a visit. Randolph is the only college in the region that sits by a navigable river, the historical James River. From flat waters between dams to rapids, there are fair shares of diverse areas to explore. Lynchburg is also a running city with the popular Virginia 10-miler passing by campus every year and many trails for running or biking.
Speaking of bikes, Randolph runs a free bike share program that gets used by 25% of the campus population and offers safe, covered bike racks if you decide to bring your own. Randolph College has access to Lynchburg's many nature trails, and sits by bike lanes that connect the campus to downtown and to grocery stores nearby.
Rock and indoor climbing, swimming, skiing, snowboarding, hiking on the Appalachian Trail, or simply enjoying a beach day by Smith Mountain Lake are some of the other activities conveniently located near our campus.
Student-Run, Eco-Friendly: The Red Door Café
Does the idea of learning how to run a sustainability-conscious business speak to you? We have given students a space to practice the lessons and ideas they learn from economics, business, and environmental studies professors. That space is called The Red Door Café and is a student-run project that offers organic and fair-trade coffee, tea, hot cocoa, and chocolate along with convenience items in a dynamic environment full of student artwork.
Trio of baristas at The Red Door Café
Campus Sustainability Guide
New to Lynchburg? Get the skinny on Randolph's sustainable programs, local recycling options, organic groceries and restaurants, public transportation, bicycles, outdoor activities, and tips for sustainable living in the Hill City.