April 22, 2021
Randolph expands pollinator garden for Earth Day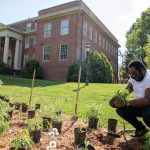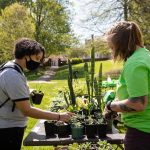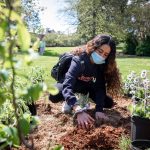 Over the lunchtime hour Thursday, professor Karin Warren alternated between digging holes in the College's pollinator garden and beckoning students to pick up some Earth Day swag.
Bright green T-shirts, designed by Paige Edwards '21, were lined up on tables alongside small, easily maintained potted plants students could take home. They were also invited to pick up a shovel and help spread seeds in the garden themselves.
It was all part of Randolph's Earth Day observation, which included Warren, Sustainability Coordinator Allison Brooks, and a rotating group of volunteers expanding the pollinator garden located between Martin and Presser halls.
First established in 2019, the garden is part of Randolph's efforts to preserve and create landscapes and gardens that revive the health of bees, butterflies, birds, bats, and other pollinators.
"This is where everything that flutters comes," said Warren, the College's Herzog Family Professor of Environmental Studies.
Brooks has expanded the garden by about 300 square feet each year, for a total of 1,000 square feet. This year, 70 plants from a local nursery were added—blueberry bushes, Black-eyed Susans, and slender mountain mint joining the previously planted Maximillian sunflower, aster, and cardinal flower, among many others.
"Some of these, Allison started from seeds last year. They're her babies," Warren said, noting the care with which Brooks designed the garden. "There was so much thought behind it."
The garden typically blooms from the end of March to October. Every plant is native to Virginia and pollinator-friendly, each element serving its own purpose. The variety of plants chosen provide both nectar and pollen sources to pollinators. The exposed soil is helpful for solitary bees that like to burrow down into it. Grasses, left to grow as tall as three or four feet, protect that soil in the winter months. On Thursday, they added prairie dropseed, the first grass intentionally planted there.
Even Creeping Charlie, a weed that snakes its way around most landscapes, is a source of nectar for bees.
"We're challenging the landscape ideology we have, of sprawling lawns," Brooks said. "We're focusing on what nature needs."
Brooks also sent T-shirts to online students last week, with tips on ways they could celebrate Earth Day at home.
"Earth Day is about more than just one day of celebration," she wrote in a note to them. "It's about getting involved in our communities and recognizing our environment."
Tags:
Allison Brooks, Earth Day, environment, environmental studies, environmental sustainability, gardens, Karin Warren, pollinator garden, sustainability