February 14, 2017
Randolph to present Dog Sees God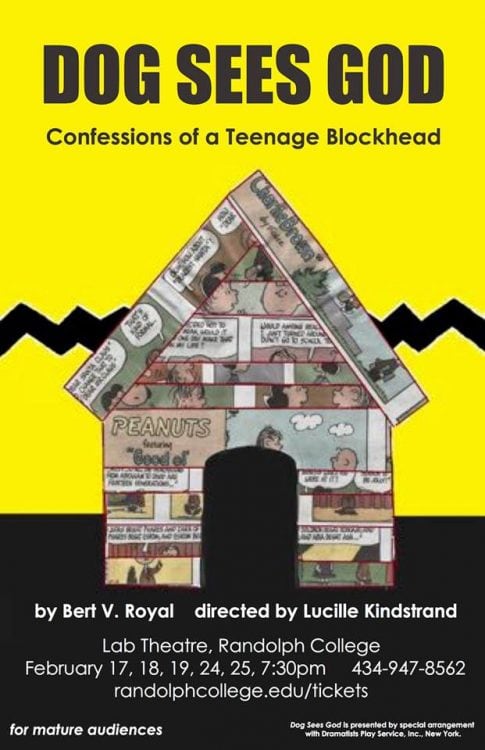 When the curtains closed following the final scene in the first full rehearsal for Dog Sees God: Confessions of a Teenage Blockhead, Lucy Kindstrand '17 was overcome with emotion. It was in that moment Kindstrand realized her dream to direct her favorite play had come true.
"This is exactly what I wanted," she said. "My vision is coming true, and it's something I've waited so long for. It's incredible to see."
Kindstrand is directing the production of Dog Sees God as part of her Senior Capstone project. The winter theatre production, which opens at Randolph this Friday, is an "unauthorized parody" by Bert V. Royal that imagines the characters from the Peanuts comics as disillusioned teenagers in high school. In the show, the characters deal with issues like death, drug use, bullying, and homosexuality. There is also a lighter theme of love and romance.
"It shows how they've changed and how time has made them into different people, and how it split some of them up and brought others closer together," Kindstrand said. "It's really funny but also heartbreaking at moments. It's full of situations that I think all people have dealt with in one form or another."
Kindstrand first saw a shortened version of the play in eighth grade, and immediately fell in love with the plot. She was even more intrigued after reading the full-length production as part of her Capstone preparation, and she loves working with other student actors.
"My actors are just fantastic," Kindstrand said. "Last year I was in The Maids, and there were only three actresses. I thought I might end up regretting my choice since Dog Sees God has such a big cast and there are so many different scenes, but they all love the play and really care about it. Thematically, there is something in the play that everyone connects with."
As a theatre and history double major, Kindstrand has gained plenty of experience in a variety of stage roles during her four years at Randolph. In addition to her performance as Madame in last year's winter theatre production of The Maids, Kindstrand acted in Our Town and Mother Courage. She also was a stage manager for Once Upon A Mattress, All My Sons, and The Greek Play in 2016.
"Acting has helped me see different directing styles, but being backstage and working closely with directors has helped so much more because I get to see all the ins and outs of the show," Kindstrand said.
Dog Sees God opens this Friday at 7:30 p.m. in the Lab Theatre (Room 203) of the Harold G. Leggett Building. Shows are also scheduled February 18, 19, 24, and 25. Tickets are available at http://www.randolphcollege.edu/tickets/
Tags:
Dog Sees God, events, Lucy Kindstrand, Theatre, winter theatre production