March 1, 2017
Randolph's 2017 Science Festival to feature professional juggler, maker faire, and more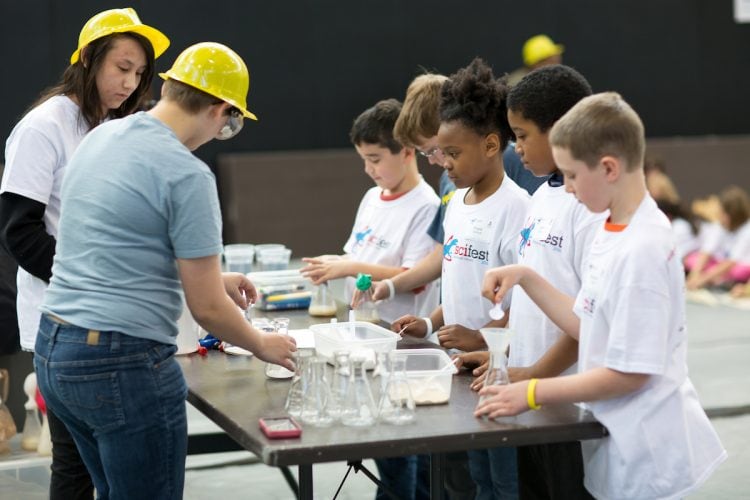 A performance by a professional juggler, a maker faire, hands-on activities for children (and adults), and a panel discussion about science careers led by successful alumnae are just a few of the highlights of the 9th annual Randolph College Science Festival.
The Science Festival of Central Virginia, hosted by Randolph College, is a series of free events during March that allow the public to discover and celebrate the beauty of science and its connection to many aspects of life. The program, which has something for all ages, has grown significantly since it began in 2009, and the 2017 festival promises to be the largest yet.
This year's slate of events kicks off with the Pi Run on March 14. The 3.14-mile fun run starts in front of Main Hall at 6 p.m., takes participants down the sidewalks of historic Rivermont Avenue, and ends with free pie back at Main Hall. Pre-registration is required at http://randolphscience.org/pi-run-details/, and the first 150 to register will receive a free T-shirt. Following the run will be the American Ninja Scientists event at 7:30 p.m. in the Chandler Lounge of the Student Center.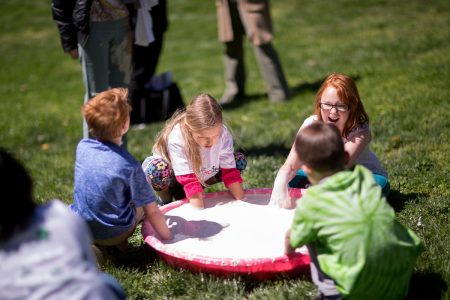 The main series of events begins Thursday, March 23, when Greg Kennedy, a professional juggler who has performed with Cirque Du Soleil, will deliver the keynote performance. Kennedy is a two-time international juggling champion and has been featured on the cover of Juggle magazine. In addition to putting on an energetic and exciting show, Kennedy will reveal the principles of physics and geometry behind his juggling routines. The program begins at 7:30 p.m. in Smith Hall Theatre. Kennedy will also lead an open class Friday, March 24, at 11 a.m. in Room 315 of Martin Science Building. Since space for the class is limited, pre-registration is required.
An exciting addition to this year's Science Festival is a Maker Faire by Vector Space, which will take place Sunday, March 26, from 12-4:30 p.m. As part of the slate of family-friendly Sunday Science Activities, the maker faire features hands-on activities and demonstrations, amazing exhibits, locally made products, and a group build project. Activities are intended for children as young as 4 years old as well as adults.
For the second year, Randolph will welcome a group of three alumnae with successful careers in the sciences to share their experiences and offer advice during a panel discussion on Friday, March 24. This year's panelists are veterinarian Leslie Ann Jones '93, certified nurse-midwife Katie Stewart Page '08, and earth science teacher Caitlin Unterman '12, '14 M.A.T. The program begins at 3:30 p.m. in Nichols Theatre (inside the Student Center). Students will have the opportunity to meet each panelist prior to the event at a reception and open house at the Center for Student Research, which starts at 2:30 p.m.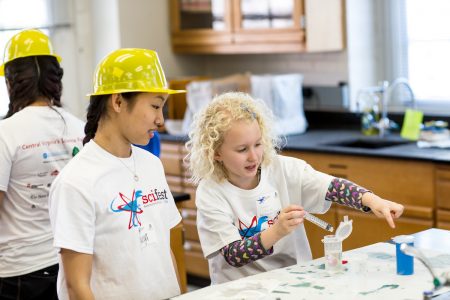 The Randolph College Science Festival expanded from Science Day, a free program offered to elementary-aged children, which was started by students in 2005. The popularity of the one-day Science Day, which routinely fills its registration early, led to the creation of an even bigger festival that would allow Randolph to share the beauty, fun, and relevance of science to all ages. The event has grown to encompass multiple days. It is organized and operated by the Randolph College Society of Physics Students and other student, staff, and faculty volunteers around campus.
"This year's Science Festival is going to be even better—if that is possible—than previous years," said Peter Sheldon, a Randolph physics professor and founder and director of the Science Festival. "I am so proud of the leadership team of students who are all making this happen, and am so thankful for the numerous faculty and staff who give so much time and energy to make the Science Festival a success."
Other highlights of the 2017 Science Festival include:
The Poetry Jam! Reading and Competition Awards will be held Friday, March 24, at 6 p.m. in Wimberly Recital Hall. Finalists in Randolph's K-12 science-based poetry competition will share their work, and over $1,000 in prizes will be awarded to the authors of the top entries.
A Scientist Goes to the Movies: Ghostbusters will be held Friday, March 24 at 8 p.m. in Nichols Theatre. Kacey Meaker '08, a visiting physics professor, will provide commentary on the scientific aspects of the 2016 remake of the Ghostbusters movie. Free popcorn will be provided.
Science Day is scheduled for Saturday, March 25. This popular event features an afternoon of activities for students in grades 3-6. The Randolph College Nursery School also will host Science Day for Little Scientists for children ages 3-7. Prior registration is required for these events. Only a few spots remain open for this event. Register today to reserve your child's place!
The Glow Stick Star Party begins at 8:30 p.m. on Saturday, March 25, in the Winfree Observatory. Scientists of all ages will have the opportunity to look up at the stars using the telescope at the Winfree Observatory. The event will be held rain or shine, and free glow sticks will be provided.
Sunday Science Activities start Sunday, March 26, at noon, and activities take place in various locations across the Randolph campus. In addition to the newly added Maker Faire, robots, lasers, and local companies and organizations will be on hand with interesting scientific activities, including Newtown's Cradle and the Non-Newtonian Fluid Pool.
The Junior FIRST LEGO League Expo takes place Sunday, March 26, and begins at 12:30 p.m. in Smith Memorial Building. Registration and more information is available at http://futurefocusfoundation.us/.
The Science Festival Petting Zoo and Bouncy Houses will be in place Sunday, March 26, on front campus: A petting zoo for all ages will be open from 1-4 p.m. Bouncy houses will be available for children from 1-3:30 p.m. and for College students only from 3:30-4:30 p.m.
The Science and Art Saturdays Reception will take place Sunday, March 26, at 2 p.m. in Room 415 of Martin Science Building. High school students who participated in Randolph's free Science Saturdays program will be recognized as Science Saturday Scholars. Find more information about the program at randolphcollege.edu/sciencesaturdays.
Visit www.randolphscience.org for the full schedule of events or to register for events.
Tags:
alumnae, events, Greg Kennedy, juggling, outcomes, performers, pi run, science day, science festival, science saturdays, speakers, women in science