Meet the Staff
Carl Girelli
Provost and Vice President for Academic Affairs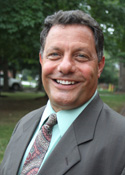 Carl Girelli holds degrees from the University of Connecticut, with a B.A. in Portuguese and a Ph. D. in Linguistics.
Before coming to Randolph College, he served in the English department of Catawba College for more than two decades, achieving the rank of tenured professor before transitioning to administrative posts in Student Affairs, Enrollment, and ultimately as Associate Provost. While his doctoral dissertation and early scholarship focused on Brazilian Portuguese, his teaching experience ranges from first-year introductory courses to upper level linguistics and grammar. Carl has conducted Spanish study trips to Costa Rica for many years and enjoys opportunities to speak Spanish and Portuguese.
Carl and his wife, Anita, have two grown children. They enjoy kayaking at the family vacation place in Prince Edward Island, Canada. Closer to home, Carl tries to find time for home renovation, craft woodturning, pottery, stained glass, and a host of creative endeavors he will never fully master.
Pam Wise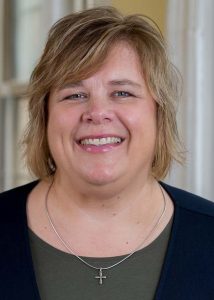 Executive Assistant to the Provost and Vice President for Academic Affairs
email
Pam Wise is a Virginia native but moved to the area in 2009. She resides in Forest with her husband, Ed and two kids, Lucas and Lauren. In 2016, she joined the Randolph community as an administrative assistant in the Academic Services Center and moved to the provost office in January 2018 as an executive assistant. Prior to Randolph, Pam was employed at Bedford County Public Schools. During her spare time, she enjoys spending time with her family and friends, home improvement projects and going to the beach where she hopes to call home when she retires.
Bunny Goodjohn
Associate Provost of the College
B.A., Randolph-Macon Woman's College; M.F.A., University of Maine
email
Bunny Goodjohn graduated from Randolph-Macon Woman's College with a B.A. in English and from the University of Southern Maine with an M.F.A. in Creative Writing.
She graduated from R-MWC's Prime Time program in 2004 but returned to the college in 2007 to adjunct for the English department and to direct the Writing Program. In 2015, Bunny stepped out of the classroom to focus full time on her position as Director of the Academic Services Center and the Writing Program. In 2018, she joined the DOC team as Associate Dean.
Bunny, who is published in both poetry and fiction, balances a fondness for writing with a passion for collecting (or perhaps hoarding) mid-century modern furniture and geegaws and divides her spare time equally between libraries and thrift stores.
Kim Bowers
Administrative Assistant to the Associate Provost
email
Kim Bowers is originally from Chicopee, Massachusetts, but moved around a little before landing in Virginia. She settled in Forest in 2007, working for Bedford County Public Schools as a bookkeeper until joining Randolph College in 2019. She works closely with the Associate Provost and Executive Asst. to the Provost. Kim has 2 boys, Daniel, 21, and David, 19. She travels to Massachusetts whenever possible to visit family and friends. During her time off, Kim enjoys the challenge of teaching herself to knit and crochet, watching Netflix and spending time with her boys and many friends that she has made since being in Virginia.

Kim Sheldon
Director of Student Success
email
Teresa Harris
Program Coordinator of Student Success
email