Provost's Office
The Office of the Provost and Vice President for Academic Affairs is the central coordinating authority for the College's academic programs and policies.
Phone: 434-947-8820 | Fax: 434-947-8999
Welcome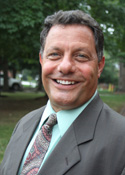 I am happy to welcome you to the web pages that focus on the academic program of Randolph College. There is so much that is special about Randolph College—from its great student spirit and college traditions to its caring and supportive staff—and Randolph's commitment to academic excellence is known throughout the nation.
We have the finest faculty and the best academic programs you will be able to find. This is a place where you can get more than a degree. You will learn things that will become a part of your life, that will help you with your personal search for meaning and will prepare you for any career you might choose in the future.
The faculty here are leading scholars in their fields, but they teach at Randolph because they want to get to know you. They want to do more than pass information on to you; they want to engage your minds and hearts in and out of the classroom.
I feel proud to be a part of this institution, and I hope that you will take some time to look through the whole Randolph College web site to learn about what we have to offer. And I hope that you will stop by the office to say hello. I look forward to meeting you!
– Carl Girelli,
Provost and Vice President for Academic Affairs