June 12, 2023
Summer research analyzing the antioxidant potential of wine
This story is part of an ongoing series featuring the work of faculty and students participating in Randolph's Summer Research Program.
Natty Stanley '25 documented an early experiment for Randolph's Summer Research Program in a time-lapse video. The camera focuses on a column full of liquid set up in one of the College's chemistry labs.
The color quickly drains out of the column, purple eventually turning into a foamy white. A dark red liquid collects in a beaker below the column, taking on the appearance of, appropriately enough, a shiraz or cabernet sauvignon.
This summer, Stanley, Maddie Friel '25, and professor Ann Fabirkiewicz are analyzing the antioxidant potential of wine. One way to do that is using column chromatography, a technique that isolates a single chemical compound from a mixture.
The action in Stanley's video is sped up, but in reality, the process takes nearly a day to complete.
"It's been a lot of fun learning this technique," said Stanley, a biology and chemistry double major. "I enjoy seeing the color changes and watching where the sample winds up within the standards we've created."
Wine is often recognized for possessing health benefits like a reduced risk of heart disease and cancer.
A diet high in antioxidants can have some of the same benefits, and Fabirkiewicz has regularly conducted summer research with students measuring the antioxidant potential of various foods and drinks.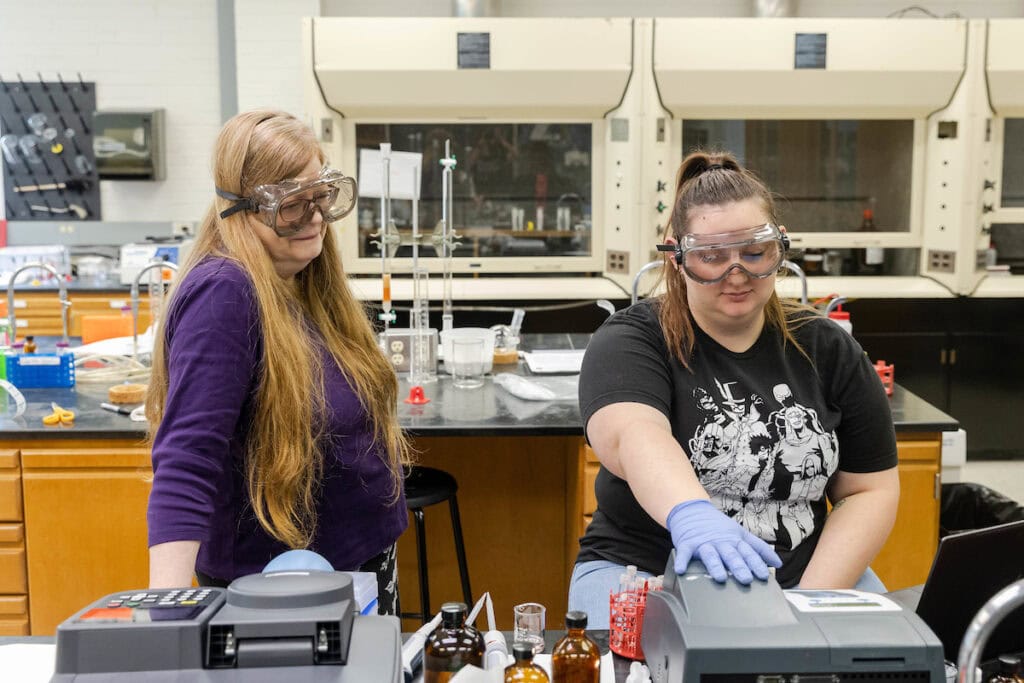 The wines come from all over the world. They've started with varieties from Australia and California, with plans to add wines from Israel, Chile, and France as the summer progresses.
"We're trying to get a broad selection to see if climate affects how these grapes are grown and how the climate can affect their antioxidant properties," said Friel, who is majoring in chemistry with a minor in biology.
For Friel, Summer Research is a chance to polish the skills she's learned in previous chemistry classes.
"I've done a lot of courses for my major so far," she said. "Working over the summer allows me to continue refining my technique and prepares me for new techniques I'll face in my junior year."
It also presents an opportunity for outside-of-the-box thinking, Fabirkiewicz said, noting an often-conducted experiment using column chromatography to separate the components of tomato paste.
"You see the technique once, but the details have already been worked out," she said. "It fails in known and predictable ways, and the real world isn't like that. When you're working with a different sample, like they are this summer, there are things you have to change, and you get to troubleshoot."
Tags:
chemistry, summer research, summer research 2023