May 17, 2023
Randolph's Office of College Relations recognized with national awards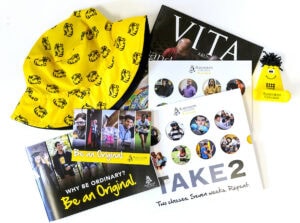 The work of Randolph College's Office of College Relations (OCR) was recently recognized as some of the best in the nation by two national award competitions. OCR received seven awards, including a Best in Show, from the Annual Educational Advertising Awards and five awards from the Collegiate Advertising Awards.
"The fact that we could make this award-winning work completely in-house speaks to the talent of our OCR team," noted Farah Marks, vice president for institutional advancement. "These Randolph professionals have been able to sustain our Be an Original brand in new and compelling ways, and their work obviously stood out among many larger universities."
Randolph was one of just 16 schools nationwide to be recognized with a Best in Show award from the Annual Educational Advertising Awards.
The award was given for a brochure promoting the College's TAKE2 program. The Best in Show award was given to schools "whose work exhibits the highest standards of excellence." Randolph was the only Virginia school to win the award. This particular award does not designate schools based on size. Other recipients included large schools like Rutgers, Clemson, the University of Louisville, and Auburn University.
"It is such an honor to be recognized by these two award competitions," said Brenda Edson, director of college relations. "Our college relations staff is small, but each member is incredibly talented, hardworking, and creative, and that is reflected by these awards.
"The Best in Show award is especially exciting, given that only 16 schools across the nation received the honor," she added. "To see Randolph College's name on a list with such prestigious institutions as Rutgers and Clemson is amazing. I am so proud of our team and the work we do for Randolph."
In addition, the College received six other awards from the Annual Educational Advertising Awards in the under 2,000 students category. The competition is judged by a national panel of industry specialists who review each piece, judging creativity, marketing execution, and message impact. Entries are selected for Gold, Silver, Bronze, and Merit awards. Randolph received awards for numerous admissions pieces and its magazine:
Gold in Brochure Category: TAKE2 brochure
Gold in Direct Mail Category: TAKE2 direct mail
Merit in Brochure Category: Fact Sheet series
Gold in Imprinted Materials Category: WildCat Summer Melt Bucket Hats
Gold in Magazine Category: Vita Abundantior Magazine
Bronze in Total Recruitment Package Category: Why Be Ordinary? Be an Original (viewbook and travel piece)
The Educational Advertising Awards competition is the oldest, largest, and most respected educational advertising awards competition in the nation. In 2022, the awards committee received more than 2,000 submissions from colleges, universities, and secondary schools from across the nation and internationally.
OCR also receives five awards from the CCA
The Office of College Relations and Randolph College were also named among the top in the nation in the 2022 Collegiate Advertising Awards (CAA) program.
The CAA is an elite, national program recognizing higher education organizations for excellence in communications, marketing, advertising and promotions of their schools. A national panel of industry experts judged the competition.
Awards were issued for entries that received top marks from judges placing them in the top 16% of the nation for advertising excellence. Judging criteria included creativity, layout and design, functionality, message effectiveness, production quality and overall appeal.
Randolph was awarded four Gold awards (recognized as the top 5 percent in the nation) and one Bronze award (top 16 percent in the nation).
The Gold awards were presented for Advertising Specialty (TAKE2 phone holder), Brochure Series (fact sheets), Brochure with Multiple Pages (TAKE2 brochure), and Direct Mail (TAKE2 piece). The Bronze award was given for the College's viewbook.
"It is an honor for Randolph to be recognized as exceptional within the field of higher education marketing and advertising, and these awards are a testament to the creativity, talent, and hard work of our College Relations staff," said Travis Carter, dean of admission. "They do an amazing job of collaborating and working with our admission staff to provide the materials we need to effectively tell the College's story to prospective students."